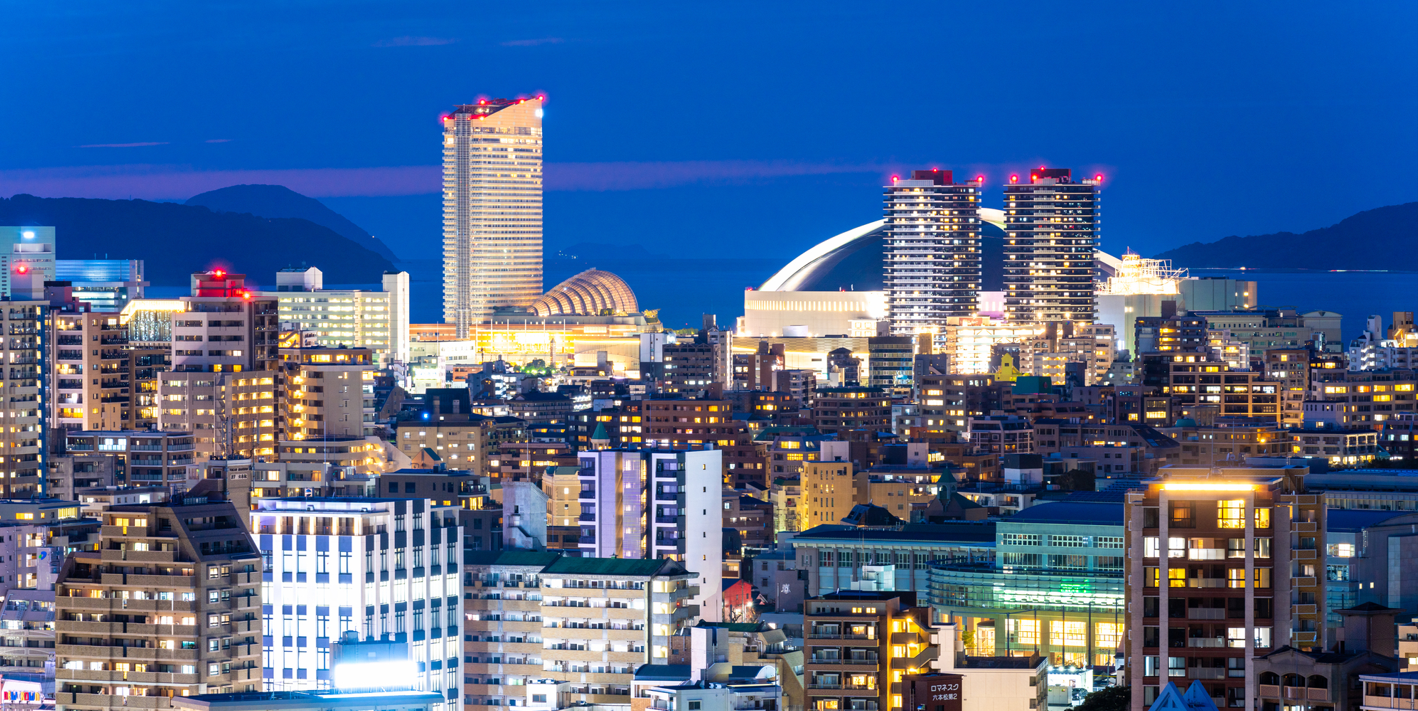 TIPS FOR TRAVELING IN FUKUOKA PREFECTURE
Whether traveling solo, with the family and little kids or escaping the city for an exclusive romantic getaway, Fukuoka Prefecture has something for every traveler.
---
Climate
The climate of Fukuoka Prefecture is temperate and humid, with mild winters and hot, moist and often rainy summers. The average annual temperature is 16.4 °C; however, it can get as hot as up to 35 degrees in summer and less than 10 degrees in winter. Snowfalls, if any, are generally light. August is the hottest month, while February is typically the coldest.
---
Transportation
When traveling within Fukuoka Prefecture, it is convenient to use prepaid transportation cards. Such cards will not provide regular ticket discounts but will help travelers save time from waiting in lines when purchasing tickets. There are three prepaid cards in Fukuoka: Sugoca (by JR Kyushu), Nimoca (by Nishi-Nippon Railroad) and Hayakaken (by Fukuoka City Subway). All those cards can be used on all trains, subways and buses in the greater Fukuoka region. The cards can be purchased through ticket machines at all railway and subway stations. Other IC cards such as Suica and Pasmo can also be used in Fukuoka Prefecture.
---
Discount Passes
Those traveling to Fukuoka City can take advantage of the Fukuoka Tourist City Pass available exclusively for foreign tourists. Offered in two kinds, one for ¥1,500 that can be used only in Fukuoka city and one for ¥1,820 that includes the Nishitetsu train to nearby Dazaifu, it can be used for all trains, subways and buses in the city. It also provides free or discounted admission to some famous tourist sights. The pass can be purchased at information desks at Hakata Station and Fukuoka Airport and ticket offices of the Hakata and Tenjin subway stations and bus terminals.

While holders of the Japan Rail Pass can use it in all areas of Kyushu, the JR Kyushu Rail Pass is another popular discount pass. Available exclusively for non-Japanese citizens traveling to Japan for sightseeing purposes, JR Kyushu Rail Pass is also one of the best options to tour the prefecture at a discounted rate. For those who will be traveling beyond Fukuoka Prefecture, the "All Kyushu Area Pass" (¥16,000-¥20,000 for adults and ¥8,000-¥10,000 for children depending on the length of stay), is the most highly recommended option. For those staying in Fukuoka Prefecture only, the JR Kyushu Rail Pass Fukuoka Wide pass costs only ¥3,060 for adults and ¥1,530 for children and can be used for two consecutive days. The pass can be used on non-reserved seats of Limited Express and Local trains operated by JR Kyushu in designated areas only. The JR Kyushu Rail Passes can be purchased online.

For more information, see here:
---
Wi-Fi & SIM
Fukuoka City provides a free public Wi-Fi service known as "Fukuoka City Wi-Fi" at all major subway stations and sightseeing and commercial facilities. Please note that membership registration is required for first-time users when connecting.
Travelers in need of a rental pocket Wi-Fi can obtain one through Kyushu Wi-Fi Rental, which offers various rental plans and can deliver the device to a hotel.

Data-only prepaid SIM cards can be purchased at Fukuoka Airport, Hakata Port and some electric appliance shops: Telecom Square Fukuoka Airport (Fukuoka Airport, International Terminal Arrival Lobby 1F) Tisco Japan (Hakata Port, International Terminal) Yodobashi Hakata Multi Media Hakata (JR Hakata station, Chikushi exit) Bic Camera Tenjin Building No.1 (Nishitetsu Tenjin Fukuoka station)
---
Money
While most hotels and larger department stores accept credit cards, it's recommended to carry some cash while traveling in Fukuoka. As travelers will find out, Fukuoka is a foodie's paradise and its yatai (food stalls) are one of the prefecture's greatest attractions. Those places rarely accept credit cards. Currency can be exchanged at all Fukuoka airports or any city bank, including The Bank of Fukuoka, the World Currency Shop Fukuoka (MUFG Bank, Fukuoka Branch, Tenjin). Travelers can also withdraw Japanese yen from the ATMs of Seven Bank and AEON Bank.
---
Accommodation
Find upscale Japanese inns equipped with large tatami rooms and natural hot springs, opt for budget-travel hotels in the big cities, or find the ultimate peace at one of Fukuoka's glamping — or simply camping — natural sites at its most hidden natural gems. For those wishing to enjoy the best of Fukuoka's entertainment, sightseeing and nightlife scene, it's highly recommended to start with Fukuoka city, where dozens of hotels are readily available for travelers on the go. For those wishing to rest at their own pace, a getaway to a Japanese inn in the Fukuoka countryside would work a magical stay for anyone hoping for a rejuvenating journey. For travelers preferring the luxury of complete privacy, opt for private guesthouses and B&Bs throughout the prefecture. Wherever you choose to stay in Fukuoka, you will surely have a pleasant experience!
---
Green Tourism
---
Next article for you