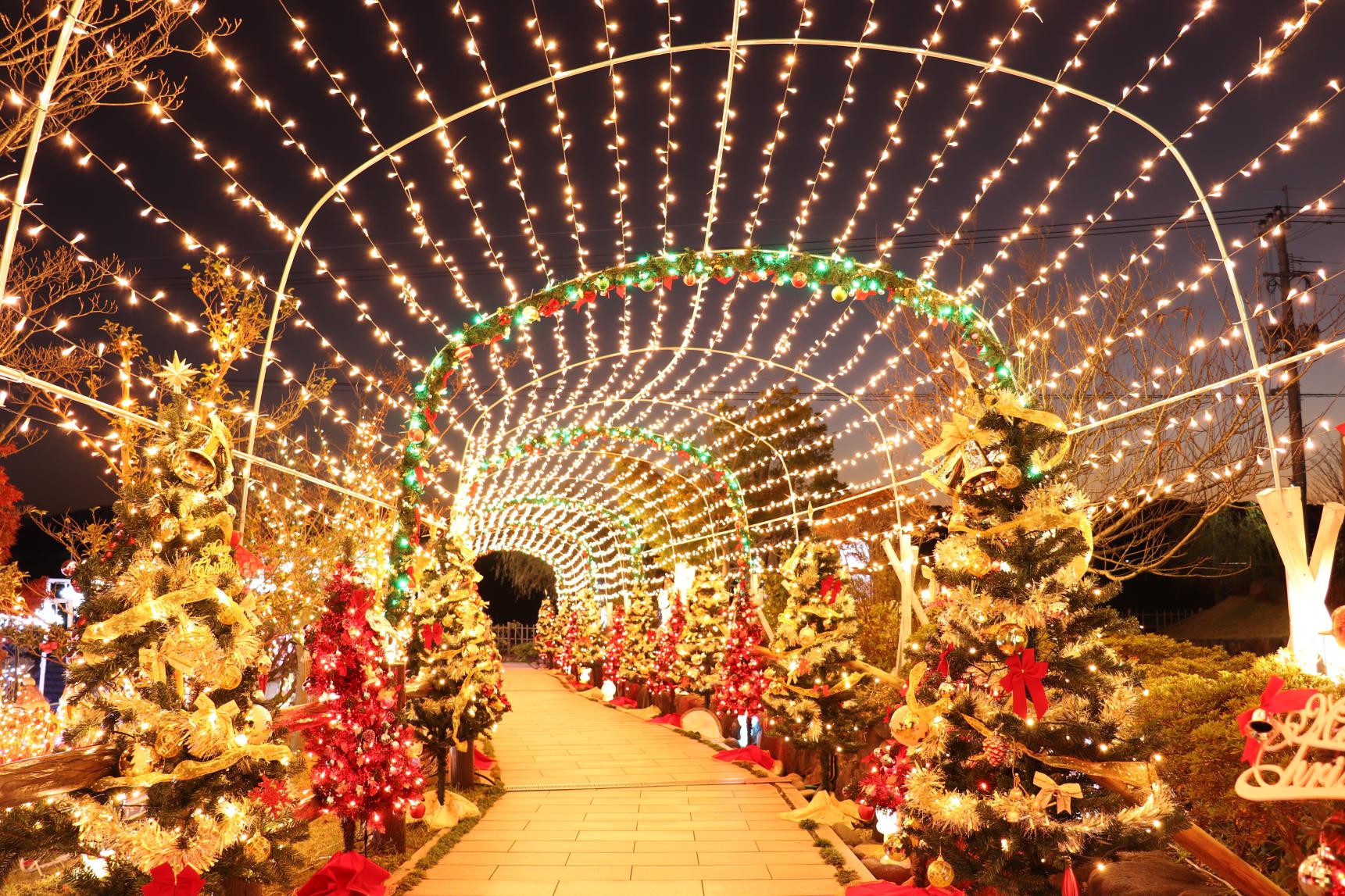 [2023-2024 Edition] Illumination and Light-up Spots in Fukuoka
Lighting up is a symbol of winter. Projetion mapping of colorful and vivid light arts are factastic in Fukuoka. We would like to share thoes beautiful light-up information for Christmas to new years. Please note that the design prejection mappings are subject to change without notice.

*The images are from past events. The specific designs and scale of the light installations are subject to change.
---
Illumination and Light-up Events in the Fukuoka Area
---
Fukuoka Christmas Market

The Fukuoka Christmas Market was launched in 2013 with the goal of becoming the no. 1 end-of-year celebration of its kind in Japan. During it, numerous locations throughout the city are connected through illumination installations, creating a "belt of light" linking JR Hakata Station Square, Fukuoka City Hall West Side Fureai Plaza, Tenjin Central Park, Kihinkan Hall, Fukuoka Daimaru Elgarra Passage Square, Fukuoka Airport, Nakasu Kibo-no Hikari (the Nakasu Light of Hope stretching throughout Nakasu Chuo, Nakagawa, and Meiji streets, and the Fukuhaku Deai Bridge), as well as other areas.

The festival will be held from early November to December 25.
*Some spots will stay open until the following year.
---
Kego Park Illuminations

During this winter event, Kego Park will be decorated with Christmas trees, wreaths, constellations, and other extravagant decorations providing the perfect venue for concerts, live performances, food stalls, and activities for children.

As it is conveniently located within walking distance of the Tenjin subway station, it is often filled with families, groups of friends, and couples once the illuminations come on.

The event is usually held from late November to early January.
---
WINTER LIGHT FANTASY ILLUMINATION Supported by FUJITSU

This illumination event that brightens up the winter season will be held at the Fukuoka PayPay Dome, the surrounding Hawks Garden, the BOSS E・ZO FUKUOKA complex, MARK IS fukuoka-momochi, and the Hilton Fukuoka Sea Hawk. A great opportunity to enter a world of wonder in the heart of Fukuoka.
*The photograph is from 2022.

Schedule: November 23, 2023 (Thursday, holiday) - January 8, 2024 (Monday, holiday)
---
Tachibana Bamboo Lantern Festival

During the Tachibana Bamboo Lantern Festival, Rokusho Shrine and public facilities at the foot of Mt. Tachibana, a popular hiking and climbing spot, will be covered in the otherworldly light of 6,000 lanterns cut into intricate designs by hand. With food booths and other attractions, the festival attracts numerous visitors from Fukuoka and beyond.

Schedule: Thursday, November 23, 2023
---
Illumination and Light-up Events in the Kitakyushu Area
---
Kanmon Straits Candle Night 2023

The Kanmon Straits Candle Night event is held in the Mojiko Retro district of Kitakyushu City, Fukuoka Prefecture, and the Karato district of Shimonoseki City, Yamaguchi Prefecture, which face each other across the Kanmon Straits.

The annual event, which started in Kitakyushu City's Moji Ward, was later joined by Shimonoseki City on the other side of the strait and is a unique candlelight event that flickers to life simultaneously in the two cities. During the event, elaborate candles light up both venues, creating a mystical scenery that transports you to a world of wonder.

Schedule: Saturday, November 18 – Sunday, November 19, 2023
---
Mojiko Retro Roman Tosai Illumination 2023

This is a wonderful opportunity to enjoy the sight of the entire Mojiko Retro area lit up with dazzling colors. A collaboration of lights and historic wharf structures, Mojiko Retro Roman Tosai will engulf Mojiko Retro in the fantastical, soft light of 300,000 bulbs. The amazing view from the Mojiko Retro Observatory is also worth checking out.

Schedule: Sunday, October 1, 2023 – Sunday, March 17, 2024
---
Kokura Illumination 2023 [Kitakyushu City 60th Anniversary Project]

Corporations, organizations, and governmental bodies work together to light up 20 areas in Kokura, including the Murasaki River where light reflects magically on the water, as well as the JR Kokura Station area where each facility puts up its own unique light installation. At the opening ceremony, the lights are turned on as the gathered crowd makes a toast. The Kokura Illumination 2023 also includes other dazzling festivities that make it feel like cherry blossom viewing in winter.

Schedule: Thursday, November 2, 2023 - Wednesday, February 14, 2024
---
Kokura Castle Takeakari

Kitakyushu City is home to some of the largest bamboo forests in Japan, including the luxurious Oma variety used in traditional Japanese restaurants in Kyoto. However, forgotten and untended bamboo forests have recently become an issue in Kitakyushu, leading to ecological deterioration. To help preserve the city's mountains, in 2019, large swathes of bamboo were cut to make lanterns, leading to the launch of the Kokura Castle Takeakari festival where 30,000 takeakari (bamboo lanterns) light up the area around the castle tower square, creating a dignified and mystical atmosphere.

Schedule: Friday, October 27 – Sunday, October 29 and Thursday, November 2 – Sunday, November 5
---
This event is held at Wakamatsu Minami Kaigan Street (Minami Kaigan-dori, Honmachi 1-chome, Dokai Bay side) to commemorate the designation of the Wakato Bridge as an Important Cultural Property by the Japanese government.

Schedule: Friday, December 1, 2023 - Wednesday, January 31, 2024

View more

Buzen Illumination

This illumination event takes place at a park with views of the trains by Unoshima Station, using the view to "energize the city."

Schedule: Saturday, December 23, 2023 - Friday, January 19, 2024

View more
---
Illumination and Light-up Events in the Chikugo Area
---
Oto Illumination
With approximately 650,000 bulbs lighting up one of the largest roadside stations in western Japan, the illumination at Michi no Eki Oto Sakura Kaido has become a major winter feature of Oto Town. The theme of the light installations changes each year to offer a unique and exciting experience and is kept under wraps until the lighting ceremony. Numerous food stalls are set up during the event so that visitors can enjoy the lights together with wonderful food.
The event is usually held from late November to late January.
---
Kurume Lightsival "Hotomeki Fantasy"

The Kurume Lights Festival "Hotomeki Fantasy" features light installations made up of 400,000 bulbs primarily located at the East Exit square of Nishitetsu Kurume Station and Meiji Street (between the Mutsumon and Kurume Nishitetsu Station crossings). The festival also features photo spots that are bound to go viral on social media, such as the Tunnel of Light, Star Bench, and the Golden Corridor. Other highlights of the festival include a lighting ceremony, stage shows, food and drink stalls, and other fun events.

Schedule: 17:00-24:00 from Friday, December 8, 2023 to Sunday, February 18, 2024
---
#Winter in Sanshika

Sanshika is the house where Maki Yasuomi, an imperial loyalist samurai of the late Edo Period, spent nine years and nine months under house arrest. It is designated as a Prefectural Cultural Property (historical site). Winter in Sanshika is a light-up event that honors Maki's contributions to Japanese history. It features a panel with Maki's death poem, "Swirling around the rock-roots of the great mountain is the Japanese spirit of my life," as well as paper lanterns with the names of 50 of Maki's comrades.

Schedule : December 1st (Friday) - 3rd (Sunday), 8th (Friday), 9th (Saturday), 2023
---
Illumination and Light-up Events in the Chikuho Area
---
Seisui Temple's Bamboo Lanterns

At this turn-of-the-year celebration, bamboo lanterns lovingly handmade and decorated individually are lit up at the same time, creating a mystical scenery of gently flickering bamboo lights. This is an environmentally-friendly event with hydrogen-powered LED lights used in the Toyota Mirai electric car replacing candles, thanks to the support of Toyota Motor Kyushu, Inc.

Schedule: December 29, 2023 (Friday) - January 2, 2024 (Tuesday)
---
Next article for you