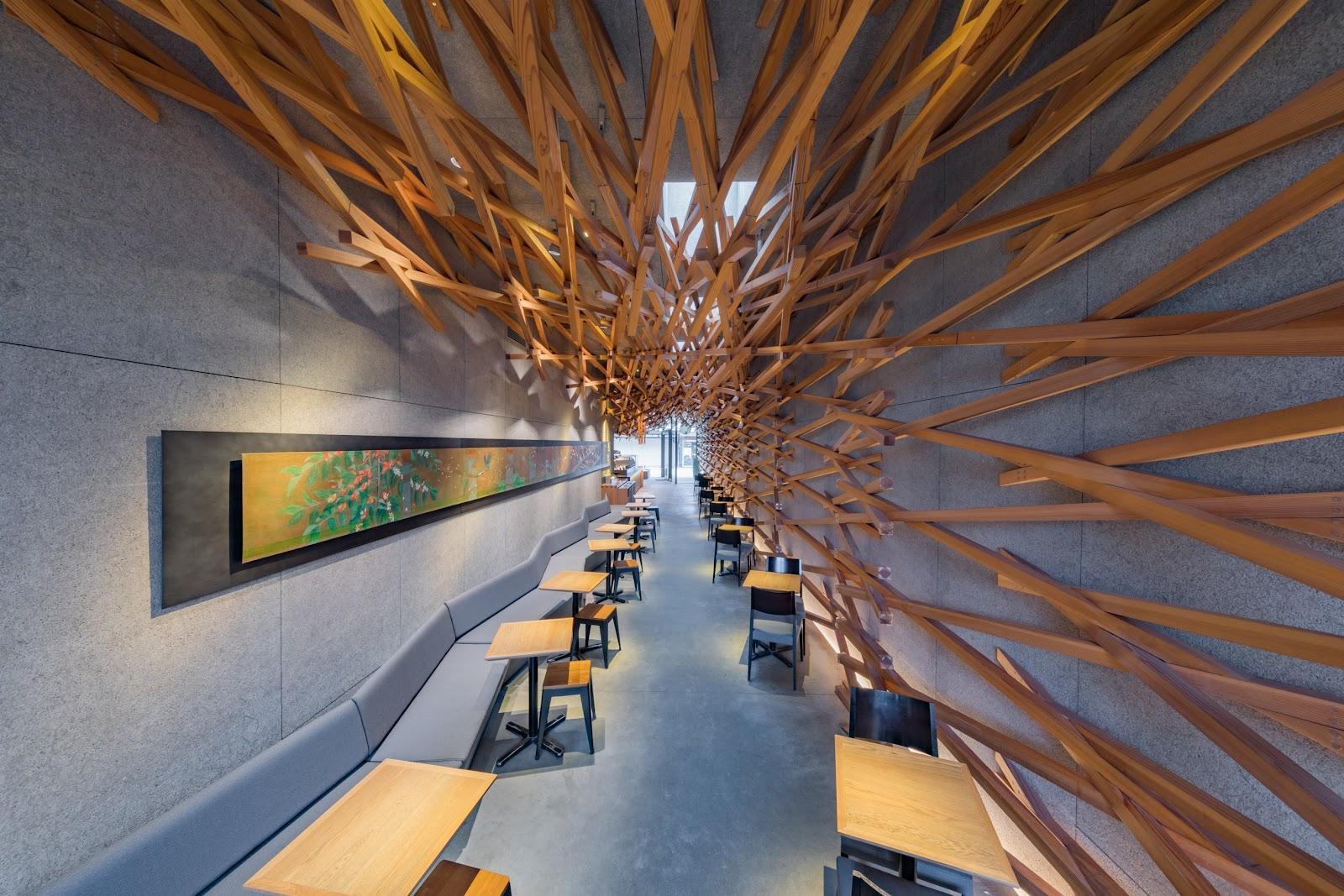 Fukuoka Prefecture, Kyushu's Architecture Wonderland
Fukuoka's bustling art and architecture scene can be traced back to its strategic coastal position as Japan's prime gateway for commerce with Asia and the West since the beginning of the 20th century. As Kyushu's largest city, far from Tokyo and Osaka, Fukuoka radiates its own strength as a prime destination for design and architecture lovers through its visionary approach to urban planning.
---
Architecture from the late 1980s to early '90s
In the late 1980s, Japan's economic emergence as a world superpower made headlines around the world, as Tokyo real estate prices soared beyond many people's wildest dreams. But far from the Japanese capital, a parallel phenomenon was developing in Fukuoka. A keen interest in Western architecture, coupled with a boundless ambition for urban development, led local authorities to hire big names in architecture (both household names and international ones) for a multitude of projects, leaving behind a treasure trove of interesting works.
---
Street of World Architects, Kisho Kurokawa, et al. – 1990
The entire Momochi-hama area from Sawara ward is worth a thorough visit for its elevated density of architecturally noteworthy buildings. This area was the result of a coastal development plan that expanded via landfill work what was previously known as Momochi Coast. Within the context of the Asia Pacific Exhibition, Yokatopia, which took place on these grounds in 1989, the new waterfront area became a showcase of innovative architectural design for commercial, technological and residential purposes. Besides Fukuoka Tower, one of Fukuoka's most distinguishable skyline sights, some of the most interesting buildings from that period can be found along Jigyo Momochi Line road—in a section known as "Street of World Architects" that could now be considered an open-air exhibition of postmodern architecture.

Here, seven leading architects display their creative vision with proposals that are radically different from one another. It's an eclectic blend of styles that calls attention to the influence of individual design on the urban fabric. While we're generally used to seeing such overt stylistic expression in financial districts, cultural facilities or regional landmarks, this artistically engaging design applied to residential buildings is particularly eye-catching.
---
At the intersection with Yokatopia Avenue, two famous buildings stand side-by-side: Japanese visionary Metabolist architect Kisho Kurokawa's Fukuoka International School Annex and American postmodernist architect Michael Graves's Nexus Momochi M Building. The Annex's most visible feature is its crystal tower, which fittingly houses the school's Art Center and Design Lab. The M Building is a bright red residential building with a central corner shape that echoes Graves's spectacular design of the Hyatt Regency Hotel, also built in Fukuoka in 1993. It stands next to the Nexus Momochi S Building, designed by renowned American architect and theorist Stanley Tigerman. The façade and interior have a very similar design, blurring boundaries between inside and outside. Next to the School Annex, Yoh Shoei's Seaside Momochi South Seashore Building has an external structure that resembles a cubic-grid exoskeleton. Other buildings in this section include Kan Izue's Seaside Momochi Arti Court A and Junji Mikawa and Toru Ayukawa's Seaside Momochi Arti Court B, residential buildings with contrasting designs despite their similar names, and Yasufumi Kijima's Vega, which exploits its corner position with with an unusually shaped entrance.


Street of World Architects
3 Momochihama, Sawara Ward, Fukuoka City, Fukuoka Prefecture
---
Post-Bubble Architecture
From the mid-1990s onwards, an abruptly different economic and social landscape was calling for a paradigm shift away from the grandeur of previous years. Design still looked toward the future, but now it incorporated a genuine concern for uncontrolled growth and renewed interest in sustainability. The city of Fukuoka was already ahead of its time, adopting environmental policies that would slowly become standard in many world capitals during the decades that followed the 1997 Kyoto Protocol.
---
ACROS (Asian Crossroads Over the Sea), Emilio Ambasz – 1995
The Prefectural International Hall, designed by the Argentinian architect Emilio Ambasz, has become Fukuoka's poster child for green urbanism by incorporating a lot of green spaces within the building's structure. So much so, that its mountain-like shape is practically a natural extension of Tenjin Central Park. Beyond the aesthetic effect, the intention was to alleviate urban heat in a high-density area such as Chuo Ward's Tenjin district. It came with added benefits for local biodiversity, as 76 varieties of some 37,000 plants were planted on the terraced roof gardens, which also provide a habitat for a variety of wildlife.

In addition, a rainwater collection system is used for toilets and building cooling systems. The opposite side of the terraced roofs is fitted with multilayered glass windows that allow natural light to enter, while at the same time providing privacy for those inside and preventing heat accumulation. Over 15 years after its construction, ACROS is still an example of green vanguard design.


ACROS Fukuoka
1-1-1 Tenjin, Chuo Ward, Fukuoka City, Fukuoka Prefecture
---
Riverwalk Kitakyushu, Jon Jerde – 2003
As a large cultural and commercial complex, commissioned as part of the government's Kitakyushu City Renaissance project, Riverwalk Kitakyushu is one of the most prominent landmarks in the area. Kokura Castle, its gardens and Yasaka Shrine are located right in front of the complex, so coupled with its location next to Murasaki River, this spot provides an ideal setting for a leisurely stroll which is also an opportunity that encapsulates the best of the city's old and contemporary culture.

The architectural composition seems very eclectic at first sight, with a blend of very distinct colors and styles. Each building's architectural style symbolizes the uniqueness of each one of the city's five districts while each color represents Japanese traditional culture and landscapes. Art and architecture come together in a striking look into the future without ignoring the historical roots of the city.


Riverwalk Kitakyushu
1-1-1 Muromachi, Kokurakita Ward, Kitakyushu City, Fukuoka Prefecture
---
GRIN GRIN in Island City, Toyo Ito – 2005
Next to Hakata Bay, an artificial island called Fukuoka Island City was built in 1994, whose facilities are still under construction and expected to be completed by 2027. The area closer to the mainland features the island's Central Park, where the Japanese architect Toyo Ito has created a landmark for both educational and biodiversity purposes. GRIN GRIN (a stylized way of saying "green green") is divided into several blocks: the northern block is a large green open leisure area, the central block features a botanical garden full of butterflies and tropical plants, and the southern block is dedicated to gardening workshops.

The overall rounded design is meant to look like an organic space that blends seamlessly with the park's natural environment, while the inside feels like a futuristic greenhouse whose curved glass roofs allow natural sunlight and conserve warmth during colder months. This building also collects rainwater for general cooling and to water the plants inside. A walkable path on the rooftops offers great scenic views of the park and of the structure itself. Ito's contemporary approach to architectural shapes with organic inspiration stands in stark contrast to rationalist or brutalist styles and recovers some of the ideas found in French and Catalan Art Nouveau architecture, channeling humanity's connection to Nature.


GRIN GRIN in Island City
5-1-1 Kashiiteriha, Higashi Ward, Fukuoka City, Fukuoka Prefecture
---
Innovation with a back-to-basics approach
The second decade of the 21st century was marked by the 2008 global recession and greater concerns about climate change, putting a stronger emphasis on seeking new ways to understand development, and thus calling for different approaches. In Japan's case, the aesthetic of steel, glass and concrete gave way to traditional materials such as wood, which has always been the backbone of Japan's traditional constructions.
---
Starbucks Coffee Dazaifu Tenmangu Omotesando, Kengo Kuma – 2011
The Japanese architect Kengo Kuma took advantage of modern technology and traditional wood materials to design an architecturally innovative shop for the popular Starbucks Coffee Dazaifu Tenmangu Omotesando location in Fukuoka prefecture. Art and architecture intersect in a long and narrow space that treats the building's seemingly interwoven wooden structure as part of the interior design. The aesthetic continuity from the entrance to the end of the passageway creates a visually dynamic space that also feels warm and inviting, despite the straight cross-shaped lines, thanks to the natural timber color.


Starbucks Dazaifu Tenmangu
3-2-43 Saifu, Dazaifu City, Fukuoka Prefecture
---
Miyako Irahara Gakuen, Tadao Ando – 2016
Irahara Elementary School, founded in 1872 and said to be Fukuoka prefecture's oldest wooden school, was forced to relocate for the construction of a dam. The Japanese architect Tadao Ando was tasked with designing a building that merged Irahara's elementary and junior high schools (which were previously in separate buildings) and that would also serve as a new symbol for the region. Mr. Ando designed a courtyard-shaped school building with interior and exterior walls made of locally grown wood.
Known for his concrete designs, Mr. Ando's unique wooden school has become a new landmark in Miyako Town that has been praised both in Japan and abroad. Visits are allowed but must be approved in advance by the Miyako Tourism and Devlopment Association in order to avoid interfering with school activities. Authorization arrangements and tour activities will be arranged by the Miyako Tourism and Town Development Association, so anyone interested in a visit must contact them first.


Miyako Irahara Gakuen
178-2 Saigawakamiirahara, Miyako Town, Miyako District, Fukuoka Prefecture

Miyako Tourism and Devlopment Association(Japanese Website)
https://miyako-kanko.jp/
https://miyako-kanko.jp/news-topics/19327

Contact Form
https://miyako-kanko.jp/contact
---
Fukuoka's architectural model for the world
The above-mentioned buildings represent just a tiny fraction of Fukuoka's rich architectural heritage. The prefecture's vision for urban design sets several compelling examples of growth that isn't at odds with environmental responsibility, and of sustainable structures that can be landmarks of innovation in design. Beyond purely aesthetic motivations, these features have earned Fukuoka its place among top world rankings for the best quality-of-life places year after year.
---
Google Maps may not display correctly if left open for more than 1 day
---
Next article for you