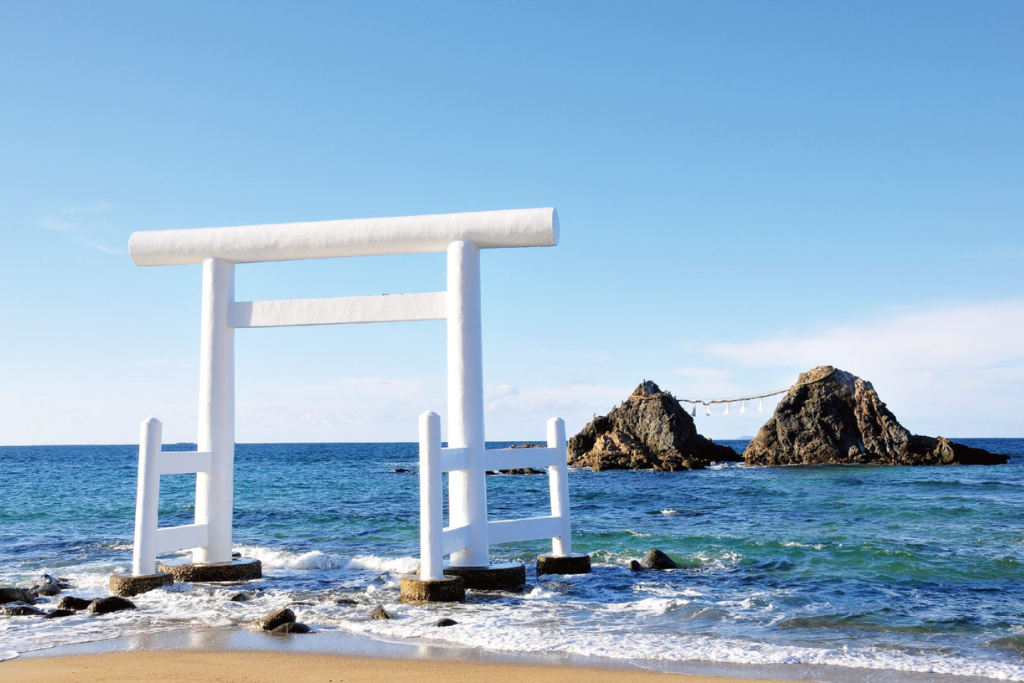 Admiring the Best Scenery that Nature Has to Offer in Itoshima
Itoshima in Fukuoka Prefecture is one of Japan's best-kept secrets. A small and stylish city neighboring the city of Fukuoka, it offers the perfect blend of fashionable cafes, galleries, and a thriving craft culture, along with a beautiful coastline surrounded by turquoise water and a rich natural environment filled with dreamy landscapes. The seaside town's most popular attraction is Sakurai Futamigaura beach, where a photogenic white torii gate stands in the water, creating a soothing balance between clear skies, blue water and white sand. Behind the torii, two large rocks joined in matrimony by a Shinto rope round up an ethereal scene that's a popular romantic spot to watch the sunset.
Continuing southwest along the coast beyond the iconic white torii, another spectacular surprise awaits visitors to Itoshima on Keya beach.
---
Discovering Keya no Oto Cave by boat
Keya is an all-round perfect summer getaway with its pristine beaches and various entertainment amenities. But the true highlight of this area is the otherworldly spectacle of the Keya no Oto caves. Sea erosion on the basalt rock has carved out caves with formations up to 64 meters high, 90 meters long and 10 meters wide, creating a series of hexagonal pillar patterns naturally chiseled by the waves of the Genkai Sea. Keya no Oto is one of Japan's three largest basalt caves, whose artistic appearance has earned it the designation of National Natural Monument.
---
The caves cannot be reached from land, only by sea. The Keya no Oto Tour Boat docked at Keya Fishing Port offers a 30-minute boat tour in spring and autumn, from about mid-March to mid-November depending on seasonal weather conditions. When the water is calm, it's safe for the boat to enter the cave, and you can witness up close the fascinating natural phenomenon that led to these formations. During open months, the tour is available every day (weather permitting) from 9:30 am to 4:30 pm, and costs 800 yen (adults) / 400 yen (children aged 2-12). Boat service may be canceled depending on sea conditions, so it's best to verify the tour status in advance by phone on the same day. Please take into account there is no English support and service availability may be limited depending on the Coronavirus situation.

To get to Keya Fishing Port from Fukuoka's Hakata train station or Fukuoka Airport, take the train to Chikuzen-Maebaru, Kafuri or Misakigaoka station (45 minutes), then a bus to the pier (20 minutes).


Keya no Oto Tour Boat
677 Shimakeya, Itoshima City, Fukuoka Prefecture
http://www.keyaotokankousha.jp/ (Japanese Website)
---
A forest tunnel to tickle your fancy
The sea cave boat tour is only the beginning. You can also enjoy Keya no Oto's marvelous sights from an observation deck at the end of a magical forest promenade that has come to be known by locals as Totoro no Mori (Totoro's Forest), in reference to Ghibli's beloved animated film My Neighbor Totoro. While not official, the nickname has become so popular that even Google Maps uses it to identify the spot. But even non-Ghibli fans can appreciate the natural beauty of a path with steps covered almost entirely by wild camellia trees, creating a fantasy tunnel-like effect. After climbing for about 5 minutes, you will emerge from the tunnel onto a small wooden platform with fantastic views of the deep blue Genkai Sea, the entire coastline and the opposite side of the cave cliffs.

From the tour boat pier, walk northeast along the coastline for about 10 minutes and continue north from the parking lot of Keya no Oto Park. Then you will see a large signboard in front of a small torii. The entrance to the forest is within the Genkai Kokutei Koen (Genkai Quasi-National Park), near Taiso Shrine.


Totoro Forest
Shimakeya, Itoshima City, Fukuoka Prefecture
---
Tuck into local seafood at a Japanese-style teahouse
Your Itoshima experience is not complete until you taste the local seafood. One of the best places is Otochaya Irori, just a couple minutes' walk from "Totoro's Forest". It's located in the area of Itoshima Picnic Village, a small cluster of cafes and shops operating in the area since 2016, selling agricultural products and a variety of crafts by local artists. Otochaya Irori used to be an old teahouse that was renovated by the owner and transformed into a restaurant. As the name suggests, one of its features is the irori, the traditional sunken hearth that served for both cooking and heating the room in old Japanese houses.
---
This nostalgic atmosphere is one of the charms of this cozy restaurant, where you can choose between tatami seating and regular table seating, in addition to the aforementioned irori, which has been modified to accommodate guests as well. During warmer months, pleasant outdoor seating on the terrace is also available. The set menus are tasty and reasonably priced between 650 and 1080 yen. The most popular is the 1080-yen seafood set, which offers a generous selection of 10 different types of fresh local seafood. For those who are less keen on eating raw fish, other menu options include fried chicken, seafood soup or onigiri (typical Japanese rice balls). The former teahouse also serves coffee and tea, which can be paired into a set with delicious desserts.


Otochaya Irori
Open from 11:00 am to 6:00 pm (closed on Wednesdays).
https://www.facebook.com/otochayairori/ (Japanese Website)

Itoshima Picnic Village
741-1 Shimakeya, Itoshima City, Fukuoka Prefecture
https://peraichi.com/landing_pages/view/itoshimapicnicvillage (Japanese Website)
---
A relaxed lodge secluded in the mountains
If you're thinking of staying the night in Itoshima, look no further than Auberge Yamaboshi, just a 30-minute drive southwest from Otochaya Irori or a 25-minute walk from Fukuyoshi Station. An old country house renovated into a lodge with a separate restaurant right next door, the lodging offers the best of a relaxing and somewhat remote mountain village that's still relatively close to the beach. This accommodation is limited to only one group per night, so it's perfect if you're looking for the privacy of a house while being able to enjoy the usual amenities of a hotel, meals included.
---
Auberge Yamaboshi has the charming atmosphere of an old Japanese rural house. Its wooden architecture and vintage furniture seem frozen in time, while creating a cozy space that will make guests feel right at home. Up to 5 guests can stay comfortably in the house. A small highlight during the coldest months is the addition of a colorful Jinhaori (a traditional samurai jacket or sleeveless coat) to the guests' amenities. You can enjoy views of the garden from the downstairs bedroom, or of the surrounding mountain landscape from the upstairs living room.
---
The Ukidake Saryo restaurant is also open to non-staying guests for lunch and dinner, serving traditional seasonal Japanese cuisine, as well as elaborate kaiseki courses featuring local Kyushu specialties — beautifully delicate creations to please the senses. Lunch is available by reservation only, from 3,500 yen (tax not included).

Auberge Yamaboshi is about an hour away from Hakata Station or Fukuoka Airport. The nearest train station is Fukuyoshi, but as there are no taxis or buses available, the owners can pick you up at the station as long as you contact them sufficiently in advance.

Reservations can only be made by phone (Japanese only). Room rates include dinner and breakfast.


Auberge Yamaboshi
1965 Nijoyoshii, Itoshima City, Fukuoka Prefecture
https://ukidake.com (Japanese Website)

Ukidake Saryo Restaurant
https://ukidake.com/meal/ (Japanese Website)
---
Itoshima, a small-town treasure of quality of life
What's not to love about Itoshima? A laid-back lifestyle in a small city surrounded by beautiful nature with easy access to gorgeous beaches and lush mountains, with a thriving art scene and dynamic urban culture. A great foodie scene thanks to its vast agricultural environment and rich sea that gives access to inexpensive seafood. Large enough to remain open to outsiders, intimate enough to create a community feeling among its 100,000 citizens. A burgeoning creative culture that attracts people from Osaka and Tokyo with its perfect balance of urban and rural charm, while still well connected to Fukuoka and its international airport. It's no wonder that Itoshima is slowly becoming a small rising star among Japan's small cities.


Text:Toshiko Sakurai
---
Google Maps may not display correctly if left open for more than 1 day
---
Next article for you