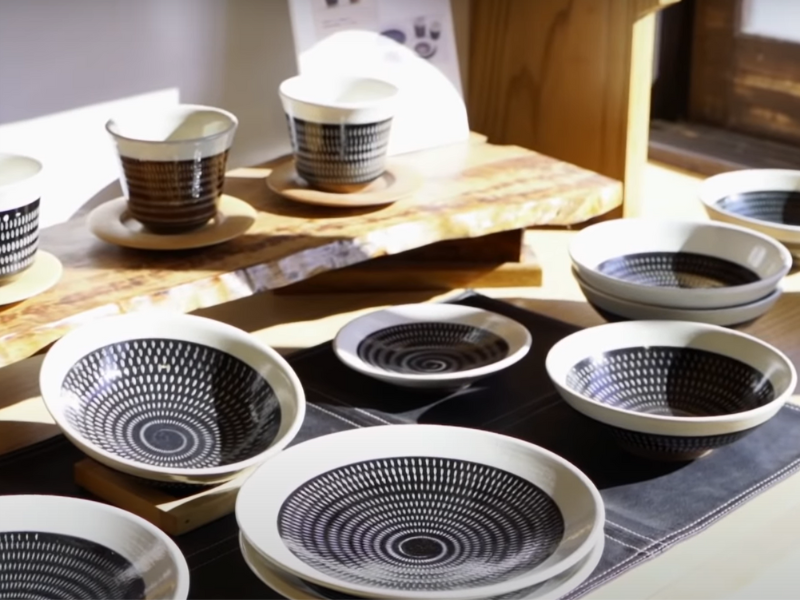 Traditional, Sustainable Products and You
Fukuoka is home to two of Japan's most beloved forms of traditional handicrafts: Koishiwarayaki pottery and Kurume Kasuri textiles. Join us as we explore the origins of these two beautiful and centuries-old crafts in the beautiful towns and villages of Fukuoka Prefecture, located in the northern part of Kyushu Island in western Japan.
---
Our first stop in Unagi no Nedoko, a former merchant's residence turned showroom for handcrafted products made using traditional techniques from all over Japan. While many products are for sale here, it also functions as a gallery, spotlighting master artisans carrying on and handing down Japanese crafting traditions for future generations to cherish.
---
Dozens of local artisans producing products from paper lanterns to traditional wooden toys to boldly styled ceramics are represented here at Unagi no Nedoko, the perfect place to kick off our journey to explore two of the areas local handicrafts.
---
The first of these handicrafts is Koishiwarayaki pottery. To best appreciate the simple elegance of this 350-year-old form of ceramics, we first visited the Koishiwarayaki Ceramics Museum in Fukuoka's Toho village. The abundance of red clay, dense forests, and clear spring water in the area made it the perfect environment for pottery making. As we strolled through the museum, we noted the elegant ways the "Tobi-Kanna" patterns and "Hakeme" brushstrokes were used in their designs, two of the many trademark qualities of Koishiwarayaki.
---
From there, we visited Yanase Honkamamoto Pottery to literally try our hand at making our own Koishiwarayaki pottery. Yanase-san is the 17th generation craftsman of this workshop, one of the original kilns in Toho village when the pottery began to be produced here in the 17th century. When demand for Japanese folk art exploded in the early 20th century, dozens of other kilns were constructed, bringing the total number of currently operating kilns in Toho village to about 50.
---
As a master potter, Yanase-san offered to instruct us in making any tableware we desired and encouraged us to relax and enjoy the experience of putting our hands to the clay. The master stood nearby as we followed his gentle instructions, ready to lend a hand if things got too difficult for us.
---
It was easy to understand how one might fall in love with the experience of creating art here in this idyllic setting of rural Fukuoka. After completing a bowl and a teacup, we felt a sense of satisfaction that somehow we had created something beautiful and unique out of a lump of raw clay. Of course, the guiding hands of the master Yanase-san didn't hurt, but it was our own hands that brought these pieces into form.
---
From our soul-satisfying experience with Koishiwarayaki pottery, we traveled to the nearby Chikugo region of Fukuoka, the birthplace of the Kurume Kasuri textile. Created over 200 years ago by a curious teenage girl, Den Inoue, this cloth became widely used for making everyday clothing for ordinary people. It is woven from indigo-dyed thread, which is dyed in irregular patterns, creating various shades of blue and white. The multi-hued thread is then woven into patterns in the fabric.
---
Kurume Kasuri Ikeda Kasuri Kobo has been producing indigo-dyed, hand-woven Kurume Kasuri textiles for over 100 years and is one of the few workshops that still produces the fabric entirely by hand. While the continued popularity of Kurume Kasuri necessitated the need for machine-woven fabrics to meet demand, this workshop protects the traditional processes involved in Kurume Kasuri, which has been officially designated as an Important Intangible Cultural Asset of Japan.
---
The process of weaving Kurume Kasuri can be time-consuming for the uninitiated, so we chose to dye cloth in the workshops indigo dye vats instead. Master craftsman Ikeda-san demonstrated several different methods for binding parts of the fabric to keep it from being exposed to the dye, as well as methods for introducing various hues of blue into the fabric by selective immersion.
---
Although each binding technique creates a general effect, the actual effect is dependent on several factors, including how tightly you bind the cloth. An area of loosely bound material can still allow some dye to penetrate it, creating an unusual patch of a lighter shade of indigo in your design. Part of the fun of indigo dyeing is revealing the finished product, which is often never quite precisely what you expected it to be.
---
Although pottery making and cloth dyeing are rather different in the level of skill required in each of their processes, they are both considered traditional Japanese crafts. Ikeda-san appreciates that a revered national handicraft like Kurume Kasuri was created almost by accident by a young girl who just wanted to make her clothes a little more stylish. He believes that people who come to Fukuoka seeking a craft-making experience will also discover they are capable of creating something unique and beautiful, just in the act of trying something new.
---
Access Information
Access to the rural areas of Fukuoka is most convenient by rental car. Several rental car companies are within walking distance of Fukuoka Airport and JR Hakata Station in Fukuoka city.

Unagi no Nedoko (Japanese Website)
327 Motomachi, Yame City, Fukuoka Prefecture

Koishiwarayaki Ceramics Museum
730-9 Koishiwara, Toho Village, Asakura County, Fukuoka Prefecture

Yanase Honkamamoto Pottery (Koishiwarayaki Pottery Experience)
790 Koishiwara, Toho Village, Asakura Country, Fukuoka Prefecture

Kurume Kasuri Ikeda Kasuri Kobo (Japanese Website)
(Indigo Dyeing Experience)
1840 Hisadomi, Chikugo City, Fukuoka Prefecture
---
Next article for you