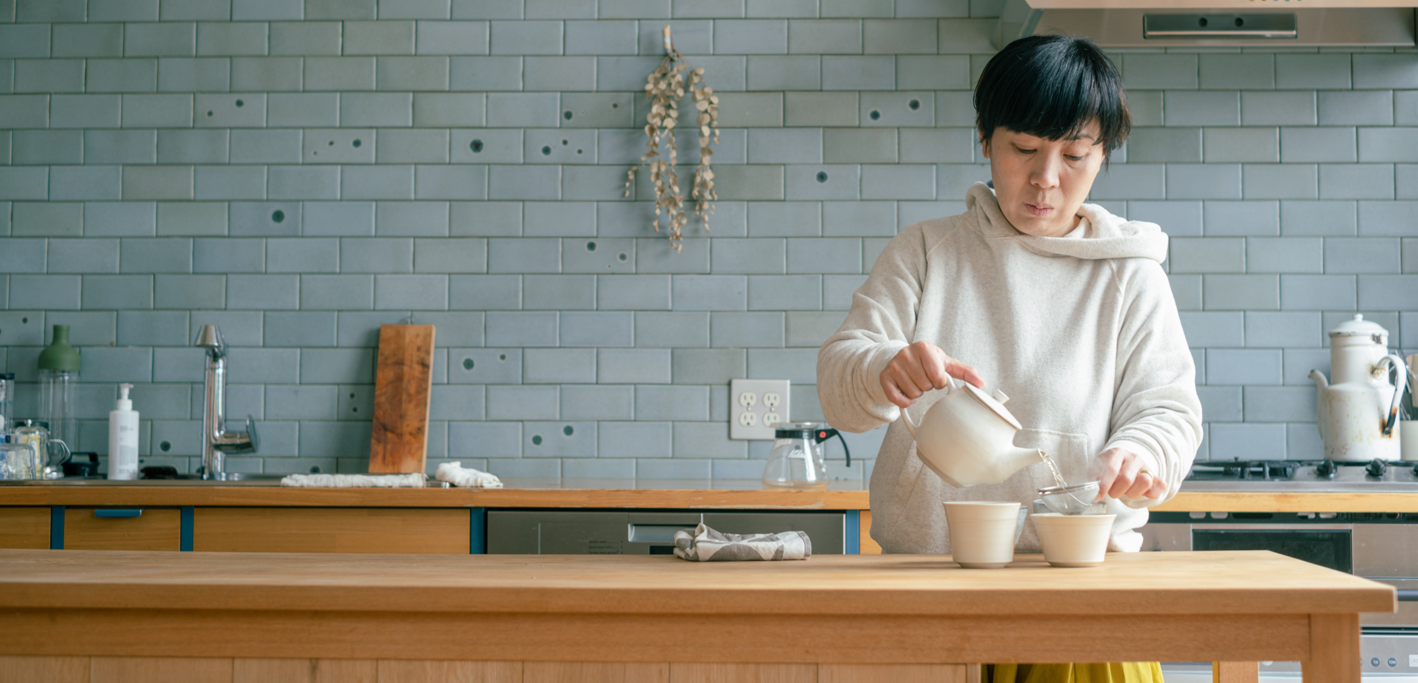 Made with local producers, delivering Fukuoka's four seasons
Itoshima, located on the northwest coast of Fukuoka, is a hip destination with a rich natural environment that is now attracting people from both Fukuoka and other regions of Japan, as well as travellers from overseas. It has also become a popular place to move to. Kyoko currently lives with her husband, who runs a design company; their son, who is obsessed with Softbank Hawks; and a parrot. She enjoys cooking with local ingredients in her kitchen, which is decorated with Tajimi tiles all over the walls and surrounded by cozy interiors.
---
When you hear the word 'Shima (means Island),' you might think you have to take a boat to get there, but Itoshima is only an hour away from Fukuoka Airport, Hakata Station, Tenjin, and other major areas. Just a few steps away from the city, you can live properly 'surrounded by nature' without the hustle and bustle of the city.
---
"When I first moved to Fukuoka, I lived in Fukuoka City. But before that, I saw a beautiful sunset here in winter. That may have been the deciding factor for me. The sky is so vast that I often look up to it all day from morning, during the day, and at night since I moved here. The stars are beautiful at night, and the ocean is within walking distance, so if I get stuck on something, I just go to the beach. It's not like I'm actively in touch with nature, but I just go there because it's there."
---
Itoshima is known as a mecca for surfers in Kyushu. But what most people ignore is that it also has the largest population of sea breams in Japan and offers a wide variety of seafood throughout the year. Itoshima is famous for its oysters, but also its Itoshima beef, vegetables, citrus fruits and strawberries. Other specialties include locally-made sake, beer and soy sauce, known only by locals. Farm stands sell freshly harvested foodstuffs produced in Itoshima, and Kyoko herself is a regular customer. She specifically recommends 'Shima No Shiki', which offers a variety of local seasonal produce and where you can buy the catch of the day at a reasonable price and eat Kaisen-don (an assorted seafood rice bowl) on the spot.
---
Kyoko now runs a brand called jikijiki which offers food products such as jam and lemon curd made with local ingredients. The name of the brand is a play on the words 'Jiki' (which means "season") and 'Jikani' (means "directly"). "The concept of the brand is to deliver seasonal ingredients directly from the producers during their best season", she explains. The products are made in her newly-opened studio in Yakuin. Kyoko is also planning to hold workshops showcasing how to cook all sorts of weird-looking ingredients found in Itoshima that most people wouldn't know how to use.
---
Interacting and communicating with the local farmers is an essential part of Kyoko's life. "Katsuya, who runs River Wild, a pig farm in Ukiha, is a friend of mine since when I lived in Tokyo. He introduced me to the local farmers and other people. That's how I started and grew my community. Since I've been in this environment, it's become my life's work to visit them every day. I gradually started inviting them over and having dinner parties using their ingredients. They're usually the ones who make or grow them, I don't think they've often been in a situation where they can see how the food they produce is eaten. It's very meaningful for them to be there to see how their products can be cooked and consumed."
What is so appealing about Fukuoka that makes people want to visit or even move there? Kyoko says: "Fukuoka is compact in terms of its size. The food is delicious, the people are kind, open-minded and hospitable to outsiders. There is a perfect sense of distance, not too close but not too far, and yet there is a strong connection with the community. I was quite surprised to see other cafes' and shops' business cards in a cafe. I wondered why they were advertising other people's stores (laughs)."
---
Sightseeing with a guidebook in one hand, or visiting Instagrammable spots can be a great plan, but perhaps the best way to experience Itoshima is to stay at a guesthouse. Quite a few of them have opened in recent years and allow you to experience local life to your heart's content. You can take a break at Niginohama beach, climb Mt. Tateishi and enjoy the spectacular view of Itoshima, or visit Raizan Sennyoji Daihioin Temple for leaf-peeping in autumn. Cycling culture has also taken root in the city.
If you are staying in Itoshima for a week or so, why not visit some of the gourmet places in Fukuoka City that have been recommended by Kyoko, a proper food professional with great taste? You can stop by the curry shop floatan, bakery LOMA, dining bar New Album, and Upan Bakery where you will be able to buy jikijiki jams.
*All safety measures against the new coronavirus were taken during the interview
---
Kyoko Hirosawa (food stylist)
Kyoko Hirosawa is a food stylist and a mother of one. After graduating from Abeno Tsuji Culinary Institute in Osaka, she gained experience at a restaurant as an assistant food stylist, then started working independently on food recipes and styling for magazines, books, and advertisements. She has also actively produced a wide range of food events and restaurants.
She moved from Tokyo to Fukuoka in 2009 and is currently based in Itoshima City. She launched her own food label jikijiki in 2019, focusing on activities to connect producers and consumers.
cookluck https://cookluck.com/
jikijiki https://jikijiki.theshop.jp/


Interview and text:Takaaki Miyake
Photo:Atsushi Tanno
Project Direction:HIGHTIDE
---
Next article for you