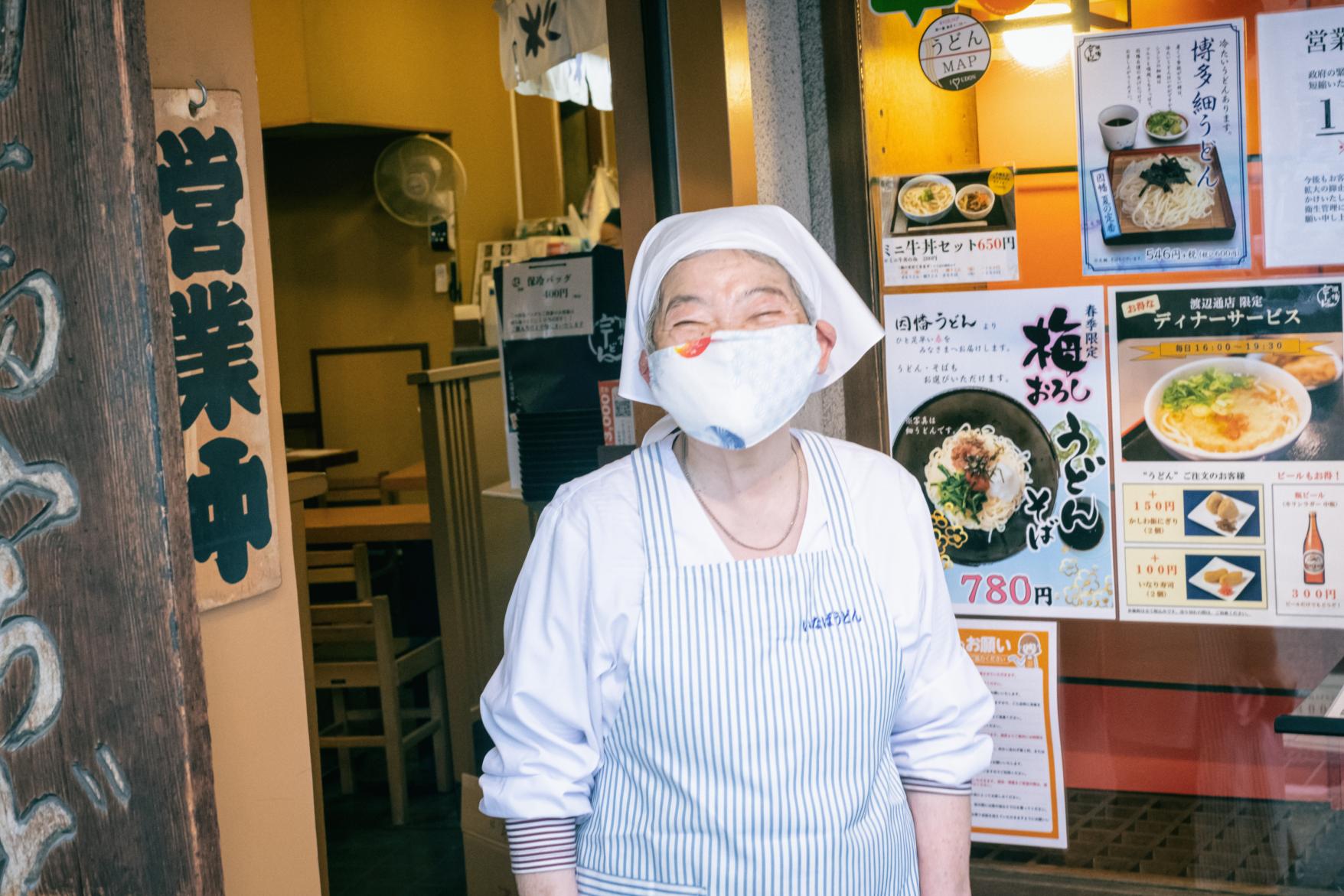 Authentic and traditional taste of Hakata, passed down by a mother and a daughter
What comes to your mind when you hear 'Fukuoka'? Is it Mentaiko, Motsunabe or Tonkotsu Ramen? Udon is actually also a soul food for people in Fukuoka. Since the opening of their first store in 1951, Inaba udon has grown to be one of the most famous udon restaurants in Fukuoka, among others offering the same taste and tradition as the founder did.
---
There are a few different versions of the story, but Fukuoka is usually known as the birthplace of udon. Each restaurant has its own unique style, from the broth to the toppings and even the noodles, another part of Fukuoka's food culture.
---
Yukiko Moriguchi, who has been running the Watanabe-dori branch since 1980, is known as the iconic and popular manager of over 40 years. Her daughter Naomi, who used to help out only at the end of the year and during the busy season, is now a veteran more than 30 years into her career and is an indispensable support for her mother.
---
"I moved to Fukuoka from my hometown, Kumamoto, about 40 years ago. When I was looking for a job at that time, I saw they were hiring people. As I was living nearby, I applied. At first, the training and probation period was supposed to be three months, but after about a month, my advisor told me that he would leave this branch to me. I've worked really hard from then on. I've been given a lot of freedom, but I also feel that there is a lot of responsibilities."
---
You can't talk about Inaba udon without their iconic menu item, the uniquely round-shaped gobo-ten (burdock tempura) udon. "When I serve this burdock tempura to tables, people are often surprised, but it's delicious when the batter melts into the broth", says Yukiko. There are many udon restaurants in Fukuoka, but there is something simple and comforting about all of them. It's the taste of Inaba udon. Since their opening, they have been using only natural ingredients for their soup stock, and the noodles are made in-house to keep them soft and smooth, one of the main features of Hakata udon.
---
Watanabe Dori, located between Tenjin and Yakuin, has now become one of the busiest areas in Fukuoka. The neighborhood has been radically altered by the development of the city, but the taste of their udon, the same since their opening, and the regular customers who have come to enjoy it have not changed.
---
"Customers who have been coming as parents and children since I started working here, they still keep coming back. Some of them even bring their grandchildren with them. We are pretty much rooted in the local community, and we have many regular customers. When they come back to Fukuoka for holidays such as Obon one of the Buddhist events and New Year's, they stop by to eat before going back to their home, and they even come to see us with souvenirs, which makes me so happy and emotional."
"Maybe it's because me and my mom are both here as daughter and mother, it makes it feel like home", says Naomi.
---
Like Naomi said, when you step into the restaurant, you immediately feel the warm feeling of coming home, as if you belonged here. Nothing special, just casual everyday conversations like "Isn't hot today?" or "How was your day?".
---
"I think there aren't many restaurants where people can enjoy chatting like they do here. I'm just so happy when a customer eats our udon, breathes in a sigh of relief, and says: 'That was delicious'. It cheers me up and makes me want to keep working".
"I've had customers from overseas also bring me souvenirs, and when they see me, they say, 'oh, it's here, she's real (laughs)'. They even ask me to take a picture with the sign outside."
"I'm really happy to have met so many different customers and to be able to continue working at Inaba udon. Even when I'm not feeling well, I feel like I have to open the restaurant to keep it alive, and I feel so refreshed when I get here. These days, people tell me to keep working until I turn 100 years old, so I now can't take time off even more (laughs)."
---
Their uniforms were renewed in February, but Yukiko continues to serve the good old taste of Hakata wearing the same aprons she has been wearing for years. Why don't you go and meet the 'mother to many' who loves this restaurant and is loved by many?

*All safety measures against the new coronavirus were taken during the interview
---
Yukiko Moriguchi (Inaba udon manager)
Naomi Ishida (Inaba udon staff)

Inaba udon
Opened its doors for the first time in 1951, just a handful of years after the end of the war, when the founder Masao Sugi opened his restaurant in a shopping arcade in Inaba Town, present-day 1-Chome Tenjin district of Fukuoka City. Inaba udon has always stayed true to its dashi (soup stock) made from natural ingredients and known as an authentic Hakata udon restaurant that has upheld, since its founding.
They have now 8 branches in Fukuoka, and plan to expand the area and open new locations.
---
Inaba udon Watanabe-dori branch
Address: 2-3-1 Watanabe Dori, Chuo Ward, Fukuoka
Tel: 092-711-0708
Opening Hours: 10:00~20:00

*Opening hours or services may differ due to the current circumstances – please check before visiting
*Closed on January 1st – 2nd

https://inabaudon.com/

---
Interview and text:Takaaki Miyake
Photo:Atsushi Tanno
Project Direction:HIGHTIDE
---
Next article for you