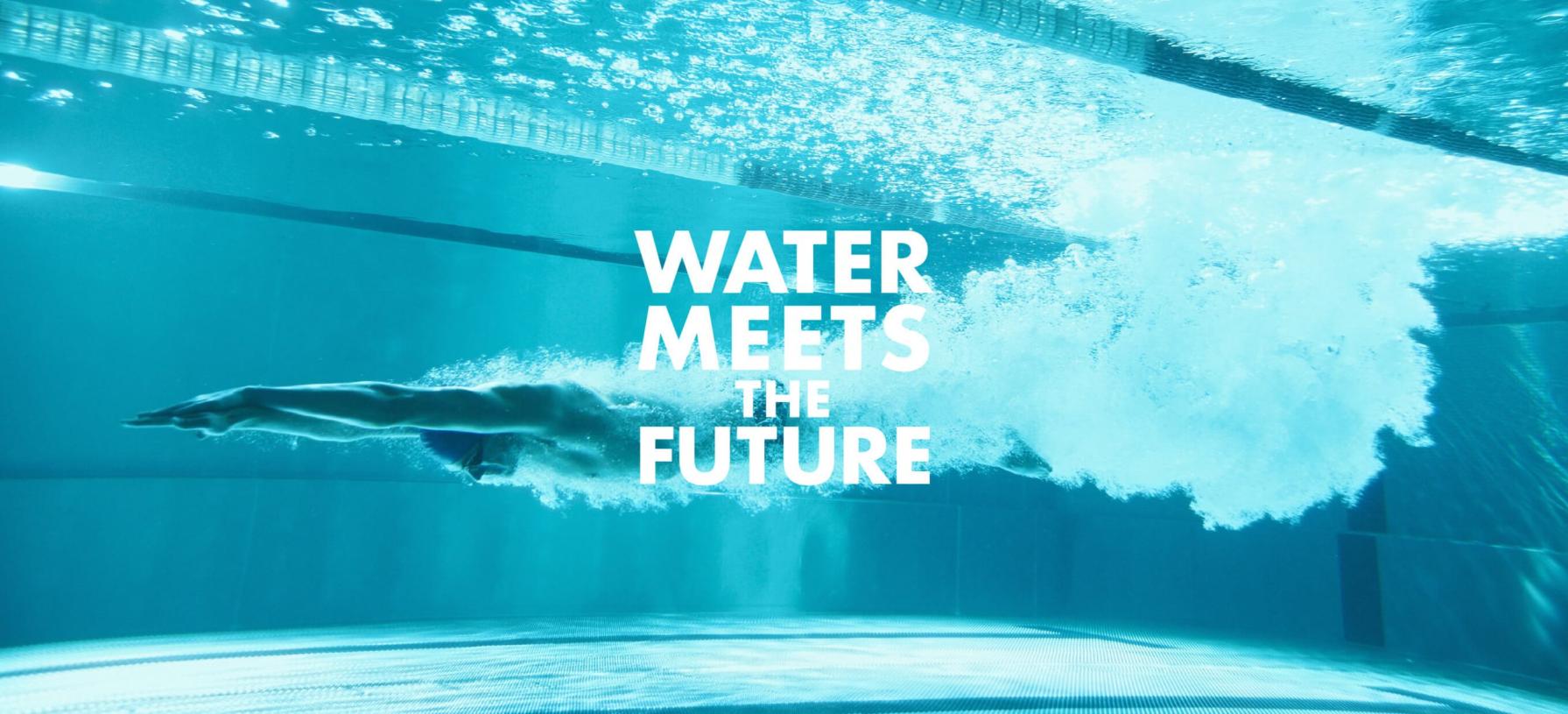 Welcome to the 2023 World Aquatic and World Aquatic Masters Championships in Kyushu, Japan
---
Come join us in Fukuoka City, where "Water Meets the Future," for the World Aquatics Championships 2023 Fukuoka and the World Aquatics Masters Championships 2023 Kyushu! Fukuoka is a dynamic city in the Kyushu region of southern Japan.
---
Where should you go to watch the World Aquatics Championships 2023 Fukuoka?
The World Aquatics Championships 2023 Fukuoka will be held in Fukuoka City from July 14th to 30th at various venues in the city. The competition will open on the 14th with diving at Fukuoka Prefectural Pool and carefully choreographed artistic swimming at Marine Messe Fukuoka Hall A. Both of these events will end on July 22nd. Head to Seaside Momochi Beach Park from July 15th to 20th to watch athletes compete in open-water swimming and enjoy spectacular ocean views while you're there. Water polo will be held at Marine Messe Fukuoka Hall B from the 16th to the 29th, and head back to Hall A, where athletes compete in swimming races from July 23rd to 30th. Finally, don't miss the jaw-dropping high diving event, which will take place at Seaside Momochi Beach Park from the 25th to the 27th.
---
Where should you go to watch the World Aquatics Masters Championships 2023 Kyushu?
Compared to the 17-day World Aquatics Championships in July, the World Aquatics Masters Championships 2023 Kyushu will take place over ten days in August, from the 2nd to the 11th. During this period, spectators can visit Fukuoka City, Kumamoto City, and Kagoshima City to watch athletes compete in the Masters' events. The open water swimming starts championships at Seaside Momochi Beach Park from August 2nd to 3rd. Diving also begins from the 2nd to the 7th at Fukuoka Prefectural Pool. Off to a dynamic start, the remaining three events will be held from August 5th to 11th. Spectators can watch various swimming events at Marine Messe Fukuoka Hall A and the Fukuoka Nishi Civic Pool. For fans of water polo, it will be necessary to travel to Kumamoto City's Aqua Dome Kumamoto. For those interested in watching artistic swimming, head to Kamoike Park Swimming Pool in Kagoshima City. The final races of the 2023 World Masters Swimming Championships will wrap up on August 11th.

Those traveling to Fukuoka for the first time will find travel from Fukuoka City to Kumamoto and Kagoshima is convenient and straightforward, with the Shinkansen express train lines connecting its major stations.
---
Fukuoka City: A Dynamic Gateway in Kyushu
A dynamic and international community awaits you in Fukuoka City! A longstanding hub of international exchange, not only is it one of Japan's most youthful and energetic cities, but it is also home to a vibrant community built around a culture that melds Japanese customs with foreign influence. Cornerstones of local traditions, such as the Hakata Gion Yamakasa Festival, stand shoulder-to-shoulder with the new. From urban townscapes to the surrounding ocean and mountains, Fukuoka City offers much.
---
How to Get to Fukuoka City
As a cosmopolitan hub and gateway to Kyushu from the rest of Japan, Fukuoka is convenient and easy to access. If you're in Tokyo, the fastest way to reach Fukuoka is by plane. It's a two-hour flight from Tokyo and just over one hour from Osaka to Fukuoka International Airport. Even better, the airport is a quick 10-minute train ride from Hakata Station in Fukuoka City center! Those planning to travel from Tokyo to Fukuoka by shinkansen should expect a five-hour trip (around three hours from Osaka). Another option is the night bus (13 hours), arriving at Hakata Station.

You can climb aboard the Ocean Tokyo Ferry for a 34~35 hour long voyage from Tokyu Ferry Terminal to Shin-Moji Port in Kitakyushu, where you can catch a train to Hakata Station. For more detailed travel information, check out Visit Fukuoka's website.
---
Discover the Convenience of Public Transport in Fukuoka
Once you are in Fukuoka City, it's time to explore the sights! The FUKUOKA TOURIST CITY PASS is a great way to do that, giving foreign visitors unlimited one-day access to the Nishitetsu and Showa bus lines, the Fukuoka City Subway, and JR and Nishitetsu train lines and ferries. The digital PASS is convenient, intuitive, and most importantly, just a tap away.

There are also special discounts for PASS holders to popular tourist destinations such as the Fukuoka City Museum, where visitors can learn about local history and traditions, Marine World, a family-friendly aquarium, and Fukuoka Tower, which has panoramic views of the city.

With unlimited access to extensive public transportation, you can discover a lot to do around the city, whether you're looking for urban fun or a nature retreat!

The Visit Fukuoka website is an excellent resource for suggestions on places to go, things to eat, where to shop, and more. For instance, Seaside Momochi, Fukuoka's glimmering waterfront district, has plenty of activities to explore its sleek, modern buildings, public parks, and restaurants that blend exquisitely with the ocean's natural beauty.
If you're more interested in white sand beaches and vivid natural scenery, Itoshima is the perfect destination. What's more, it's close enough to Fukuoka City that it makes a convenient trip while boasting a treasure trove of natural wonders that make the city seem worlds away. Furthermore, the accessibility of areas within Fukuoka City and destinations outside it, like Itoshima, make Fukuoka a great home base to discover Japan!
---
How to Spend time in Fukuoka City
First time in Fukuoka? Our city has many things to see and do, catering to various interests for visitors, new and old, including eating options, natural excursions, immersion into Fukuoka's history and culture, and relaxing lodging experiences. Here are just a few to whet your appetite for your Fukuoka visit:
---
Fukuoka's Rich Food Culture
Fukuoka's food scene is a world of culinary excellence to explore, a case that's been reflected in the city's recent selection as a Lonely Planet 2023 FOOD destination. Above all else, Fukuoka City's rich food culture reflects its diverse and dynamic community.

For one, there are around 100 yatai food stalls in the city, promoted by the local government as places for exchange and interaction between people and to sit and enjoy the bustle of the city. The countless other hip cafes and bars, ramen, and seafood restaurants, only add to the colorful culture of food in Fukuoka City. This dynamism offers an exciting contrast to more traditional establishments that speak to a continued love and respect for culinary traditions and heritage. In a city where both traditional and innovative food cultures are celebrated, there is something for everyone, with a plethora of incredible dishes ready to be tasted.
---
Hakata Ramen
Fukuoka City is the birthplace of the world-famous Hakata ramen, with around 700 ramen shops throughout Fukuoka Prefecture! With this many options, finding affordable and delicious noodles that suit your palette won't be an issue in Fukuoka City. Kyushu's regional style of ramen is known for its tonkotsu broth, a rich milky soup made from pork bones. From this soup base sprang a handful of local variations. Kumamoto ramen, for example, adds garlic chips over the noodles. Hakata ramen's trademark is its distinctly thin and straight noodles. They are also usually firmer than ramen you'll find elsewhere. Now, sipping a hot bowl of ramen in midsummer may not sound attractive, but in Fukuoka City, street-side food stalls called yatai offer outdoor dining complete with a cool evening breeze.You can enjoy your meal as you sit elbow-to-elbow with locals under the warm glow of the yatai lights. There's no better way to enjoy Fukuoka's world-famous ramen than this authentic local experience.
---
Fresh Seafood and Sushi
After a long day of spectating and swimming under the bright Kyushu sun, nothing will pique your appetite like a refreshing taste of some of the world's finest sushi. Fukuoka is famous in Japan as an area with some of the best seafood, home to the Nagahama Sengyo Fish Market, one of Japan's premier seafood markets. As it turns out, the best place to buy fresh seafood is also a great place to eat it! Several restaurants in the fish market serve high-quality and reasonably priced sushi, sashimi, seafood rice bowls, and much more.

To experience a taste of one of Fukuoka City's major local industries, head over to the fish market and grab a bite to eat. Or, you can take a bird's-eye-view of the Nagahama Sengyo Fish Market and Hakata Port from the top of Hakata Port Tower.

One of the reasons why Fukuoka seafood is so renowned is its freshness. Thus, while sushi, sashimi, and other seafood dishes are readily available year-round, seasonal local specialties only available for a limited time are particularly noteworthy. Goma-saba is one example of this. The winter dish is made with fresh mackerel sashimi and sesame seeds, soy sauce, and chopped green onion, all over a bowl of white rice.
---
Across Fukuoka Prefecture in Kitakyushu City, the northernmost city in Fukuoka Prefecture and the Kyushu region, is Tanga Market. Also known as the "Kitchen of Kitakyushu," Tanga Market is another of Fukuoka's bustling fish markets selling fresh fish to chefs and residents alike. The city is a little over an hour's train ride from Fukuoka City or around a 40-minute Shinkansen ride. Dedicated chefs around the city make morning trips to Tanga Market daily to gather top-quality ingredients for their customers to enjoy. One of these chefs is Takayoshi Watanabe, owner and sushi chef of Teruzushi, located in Kitakyushu City. Watanabe's lively social media presence and innovative sushi, alongside efforts to support local Kyushu fishermen, allow customers to experience a fresh look at traditional Japanese cuisine and raise the bar for sushi restaurants nationwide.
---
Discover Fukuoka's Natural Sightseeing Spots
Ready for a change from the crowded and lively streets of Fukuoka City? You can support sustainable tourism initiatives by stepping onto the road less traveled. Truly breathtaking natural views and experiences await those who delve into the alternative tourist activities that Fukuoka Prefecture offers.

Itoshima is a picturesque destination for visitors looking for fresh country air and unique experiences. While it is more convenient to travel around Itoshima by car, many tourist spots and natural destinations are accessible from Hakata Station via the Kuko subway line and local bus lines. A walk on Itoshima's white sand beaches will take you to Sakurai Futamigaura, a bright white torii gate standing in the ocean that perfectly frames a pair of boulders connected by a sacred rope. The spot is popular among couples and is known for its sunset views, which were selected as one of Japan's 100 Best Beach Sunsets. If you happen to be there at the right time, you may get a chance to see the sun setting through the torii gate beyond the boulders. Combined with the gentle sound of waves and the welcoming ocean breeze, a visit to Sakurai Futamigaura is unforgettable.
---
Itoshima is also a popular destination for hikers, with trails fit for a stroll to more advanced hikes for those seeking a challenging trek. Raisan is a 955-meter-tall mountain on the edge of Itoshima City that's a popular hike due to the variety of natural scenery and shrines you'll pass along the way to the summit. The trail starts at Raisan Senyoji Daihyoin Temple, then winds through a cedar and cypress forest, passing the Seiga waterfall and Raisan Jogu Shrine before reaching the peak that has incredible views of the surrounding mountains.

For families or those hoping to stretch their legs, "Totoro's Forest" is an easy 10-minute walking path reminiscent of the tunnel of trees characters crawl through in the Ghibli film "My Neighbor Totoro." It leads to an observation deck with spectacular views and Keya no Oto, a slightly ominous but intriguing stone cave. The cave measures 64 meters high and 90 meters deep and is Japan's largest basalt cave. The arrangement of black stone pillars has been designated a national natural monument. Keya no Oto is also accessible by a 25-minute ferry ride that takes passengers from Akutoya Fishing Port into the mouth of the cave.
---
Your relaxing countryside journey doesn't end in Itoshima. To the east of Fukuoka City is Ukiha City, famous for Ukiha Inari Shrine. It is a popular destination for those looking for a spiritual activity or to get a picture of its 91 red torii gates snaking up the mountain. Hiking up 300 steps through the torii gates to the shrine is no small feat but worth every effort for stunning views of the surrounding mountains. Ukiha City is also renowned for its fruit farming, with fruit picking available year-round. Summer is a particularly abundant season for grapes, Japanese pears, peaches, and more. What's more delicious than hand-picked seasonal fruits enjoyed under the warm summer sun?
---
Immerse Yourself with Fukuoka's History and Culture
Fukuoka is a well-rounded destination for first-time visitors to Japan in terms of the breadth of history and culture on display, from castles and samurai mansions to kimonos and traditional handicrafts. In Fukuoka, visitors can wander through well-preserved historical sites and experience many forms of traditional Japanese culture.

Yanagawa City, just over an hour from Hakata Station by train, is a picturesque city with an attractive array of activities and sightseeing spots. Yanagawa is nicknamed the "Venice of Japan" because of its extensive canal system. The boatmen who navigate these waterways take visitors on 30 or 70-minute cruises around town, explaining the area's 400-year history as a samurai town and pointing out interesting sites along the way, such as red brick warehouses called Namikura that were used by merchants back in the day. Even now, the warehouses remain in use as storehouses for the Tsuru Miso Brewery and have been designated as a National Tangible Cultural Property.

If you think it would be fun to explore this historic city in a kimono, head over to Koga Shin Kimonokan, a local kimono shop with a 100-year history. Their rental service offers beautiful kimonos adorned with colorful patterns and various handbags and other accessories. In addition, you can stroll through the streets of Yanagawa and admire its scenery, all while wearing traditional and authentic Japanese garments.

Another well-known Yanagawa site is Tachibana Garden in Ohana, the former residence of the feudal lord of Yanagawa. Visitors can enjoy the gardens, a museum, and a grand 100-tatami-mat main hall overlooking the greenery outside. The hall provides a welcome escape from the hot summer weather and a deeper look into the history of Yanagawa City and its samurai rulers.
---
In the city of Kitakyushu to the north of Fukuoka City is another stunning example of local history: Kokura Castle. The castle was built in 1602 by a powerful samurai family, and the castle we can see today is a reconstruction that was completed in 1959. The structure is a regal reminder of local history and provides a respite from the busy city with its Japanese garden. Next to Kokura Castle is Katsuyama Park, where hundreds of cherry trees bloom in the spring, making it a prime cherry blossom viewing spot, remaining green and lush throughout the summertime.
---
Luxury Accommodations and Traditional Inns in Fukuoka
After a day of watching swimming events, touring the city, and enjoying local cuisine, you will want a comfortable room to return to. One option is to stay at one of the several luxury hotel chains, including Hyatt, Hilton, and the Ritz-Carlton. There are several hot springs and traditional ryokan inn options in and around Fukuoka City for anyone who wants to enjoy a more traditional stay.

Another option for a historic and luxurious stay is at the NIPPONIA HOTEL Yame Fukushima in Yame City, an old castle town in southern Fukuoka Prefecture. The city is around one hour and 45 minutes from Hakata Station, in a beautiful area known for local handicrafts and world-class tea leaves. Guests at the NIPPONIA HOTEL will encounter famed Japanese hospitality and an aesthetically pleasing stay in renovated merchant houses. Additional activities, such as morning yoga overlooking the tea fields, add a modern twist to guests' stay in this historic countryside city. Traditional architecture and local handmade crafts, including indigo dyeing and Hoshino pottery, are all a part of life in Yame City that you can experience with a restful and enriching stay at NIPPONIA HOTEL Yame Fukushima.

As we welcome you to the 2023 World Aquatics Championships in Fukuoka and Kyushu, we also hope you experience the city's nature, food, history, and culture-rich activities that await you during your visit to Fukuoka!
---
Next article for you