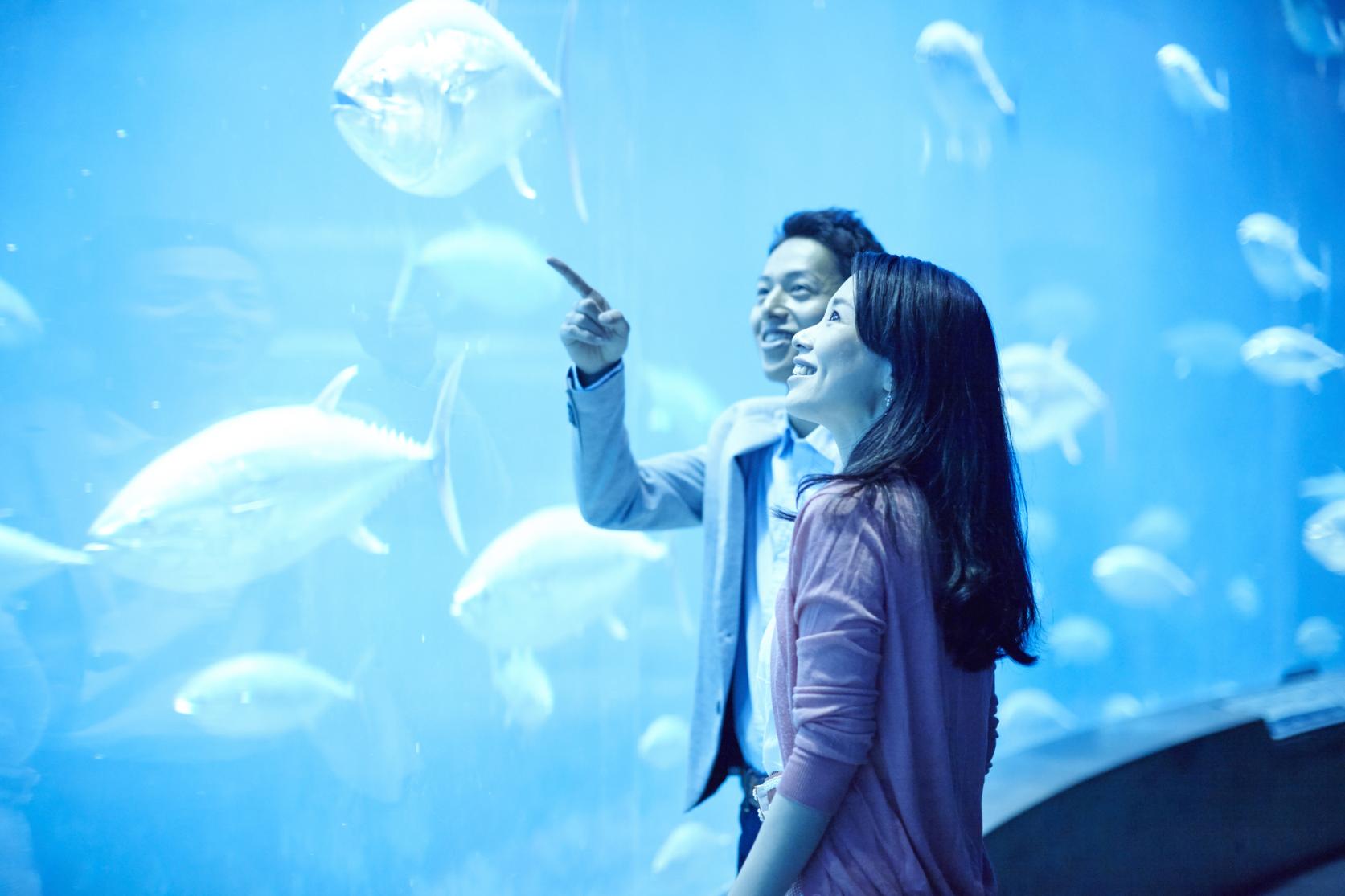 Enjoy Fukuoka, Rain or Shine: Indoor Spots in the City for a Fun Outing
Are you planning some fun in the sun in Fukuoka, but the weather forecast is calling for rain? No worries! We've got you covered with a wide range of indoor spots perfect for spending quality time with your family or enjoying a date without worrying about the weather.
---
Marine World Umi no Nakamichi
The Marine World Umi no Nakamichi aquarium, which reopened in 2017 following renovations, has become a popular indoor destination that even adults find enjoyable. It houses 30,000 creatures from 350 species of marine animals, focusing on the theme of Kyushu's sea. This encompasses aquatic life from the waters surrounding Kyushu, the open sea, and even species found in Kyushu's rivers and forests. Their widely beloved dolphin and sea lion shows have covered seating areas, making them perfect even in rainy weather.

The aquarium extends its opening hours until 9:00 pm during Japan's summer vacation period as well as Saturdays, Sundays, and national holidays in September as part of their "Night Aquarium" event. During these extended hours, visitors can experience a unique ambiance with illuminated tanks and nighttime dolphin shows, adding a touch of magical charm.
---
Fukuoka City Science Museum's Dome Theater
This is a planetarium where you can immerse yourself in a beautiful starry sky, regardless of the weather outside. With a diameter of 25 meters, this dome theater offers various themed projections aimed at diverse topics, from space exploration for preschoolers to broader concepts of the universe. Moreover, the adjacent ROPPONMATSU 421 mall, with its wide selection of dining options, serves as an excellent extension to your visit, making it an ideal location for a day out or a date.
---
VS PARK WITH G LaLaport Fukuoka
Located on the 4th floor of LaLaport Fukuoka's Gundam Park, this new kind of sports facility offers an interactive experience with the latest digital technology. Here, you can engage in numerous sports presented in a gaming format. The venue provides a range of activities, from team-based puzzle-solving to parkour courses with obstacles. One highlight is the "Kirikiri Mai" game, where participants slash numerous "glowing slits" within a set timeframe. The overall experience is akin to participating in a Japanese TV show, promising a thrilling time for both adults and children.
---
NOBOLT
NOBOLT stands as one of Japan's largest indoor sports and athletic facilities in Japan. Its large building, approximately 20 meters high, allows you to try 16 different attractions, including some said to be the first ever in Kyushu. Visitors can scale the "Rope Mountain," an indoor climbing challenge as tall as a four-story building (13 m), and engage in sports climbing, while kids can bounce on an assortment of trampolines inside the "Trampoline Zone." Offering a fusion of fun and fitness, NOBOLT has become a beloved destination for both children and adults.

*It is recommended to book through the official website if you want to go on weekends or national holidays.
---
BOSS E-ZO FUKUOKA
Adjacent to the PayPay Dome, BOSS E-ZO FUKUOKA provides many indoor entertainment options that can be thoroughly appreciated, rain or shine. The facility features a range of thrilling attractions, including the V-World AREA, teamLab Forest, and the Oh Sadaharu Baseball Museum. After an exciting day, you can choose from various dining options across numerous cuisines, making it easy to find the perfect spot for a meal.
Column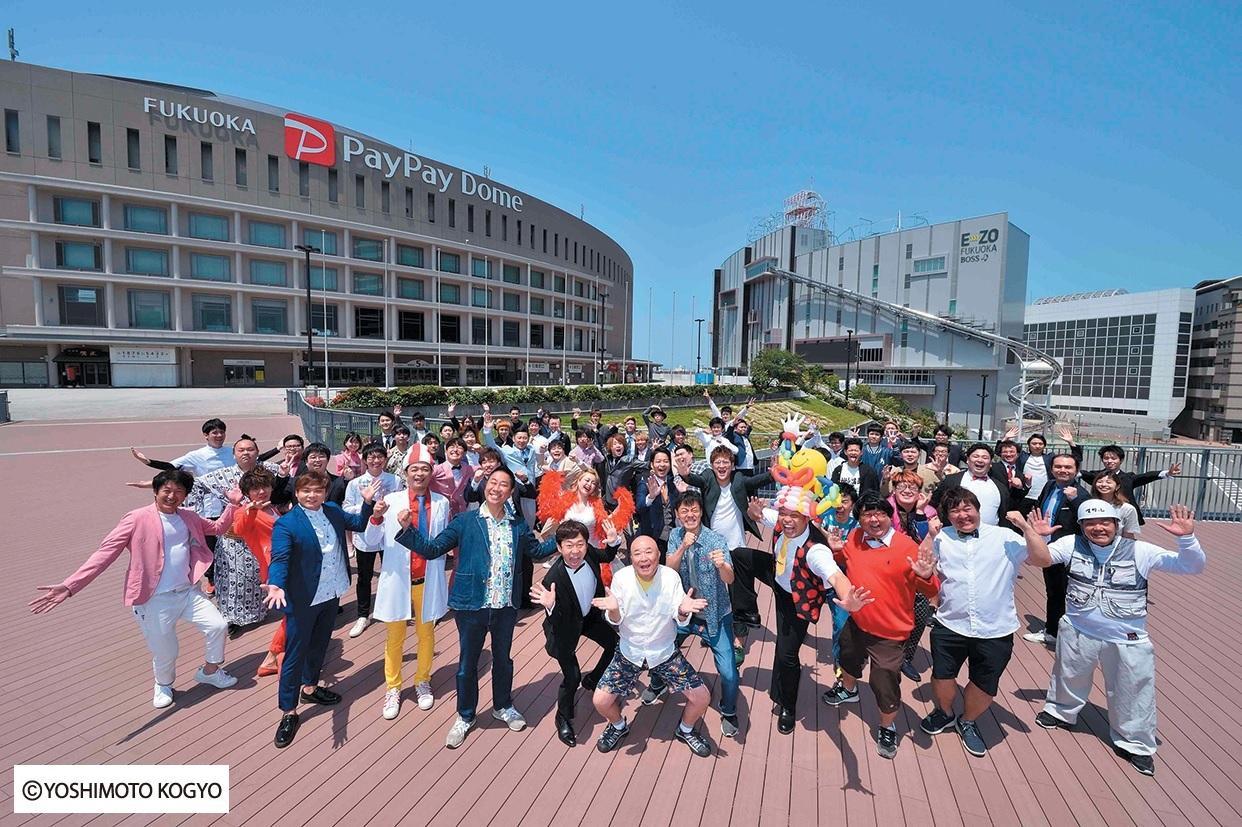 Yoshimoto Fukuoka Daiwa Fund / CONNECT Theater
Within BOSS E-ZO FUKUOKA, you'll find the permanent theater of Yoshimoto, where celebrated comedians from Kyushu, Fukuoka, Osaka, and Tokyo perform daily. Why not brighten a rainy day with some laughter? Come by to enjoy manzai (traditional Japanese stand-up comedy) or comedic skits.
---
Hakata Food and Culture Museum Hakuhaku
Hakuhaku, a museum conceptualized by Fukuya, a notable mentaiko (spicy cod roe) manufacturer, serves to introduce Fukuoka and Hakata's unique food and culture to a broader audience. The name "Hakuhaku'' cleverly melds the reading for the first kanji character of Hakata (haku), representing its food and culture, with the Japanese word for museum, "hakubutsukan." Visitors are invited to explore the museum through factory tours, engage in the hands-on "My Mentaiko" workshop, and savor mentaiko dishes at the Hakuhaku Cafe. For those looking to take a piece of Hakata home, the museum also houses a souvenir shop stocked with local specialty products.
---
Delve Deep Into the World of Fukuoka's Art and History
Enjoy a leisurely day indoors exploring museums and art galleries, where discoveries are always just around the corner!
Fukuoka Art Museum

Visitors can explore a vast international collection that includes everything from local traditional art to modern and contemporary works by regional artists, as well as pieces by renowned 20th-century artists like Miró, Dalí, and Warhol. The museum's cafe and restaurant offer views of Ohori Park's lush greenery and shimmering waters, providing a tranquil space to relax between art appreciation and strolling.

View more

Fukuoka City Museum

The museum hosts a variety of exhibits, such as the national treasure "Gold Seal" found on Shiga Island and the collection belonging to the Kuroda family, descendants of Kuroda Kanbei, who was depicted as the main character of the 2014 NHK taiga drama (NHK's annual year-long historical drama television series). In addition, the museum's shop has garnered popularity for its unique products, including replicas of the Gold Seal.

View more

Kyushu National Museum

Right next to Dazaifu Tenmangu Shrine, the Kyushu National Museum captivates the eye with its vast, mountain-resembling curved roof design and double-skin facade. It is the largest national museum in Japan in size. The museum aims to examine the evolution of Japanese culture from an Asian historical perspective, showcasing the development from the Paleolithic period through the late Edo period.

View more
---
Sekiya Kamaboko
Sekiya, a renowned traditional kamaboko (a type of Japanese fish cake) shop, enables shoppers to watch the production of kamaboko and chikuwa (tube-shaped fish cake) from the second floor. The shop also offers self-service tea, presenting a perfect setting for a refreshing break. The unique pleasure of purchasing and immediately tasting freshly fried kamaboko as tempura is an experience exclusive to this direct sales store.
---
Kirin Brewery Fukuoka
Beer aficionados will love the "KIRIN ICHIBAN Brewery Tour" that Kirin Brewery Fukuoka offers. You can watch immersive videos of the local production area, taste malt samples, scent the aroma of hops, savor and compare first and second presses, and learn tasting methods to fully appreciate the flavor of beer. They also have a selection of souvenirs, including exclusive items for the factory tour. Attached to the brewery, the Kirin Beer Farm is a restaurant designed to resemble a southern German farm. Here, dishes that pair perfectly with beer are prepared using ingredients sourced from the rich local nature. Savor these dishes alongside a refreshing glass of your preferred beer. (Please note factory tours require a reservation.)
---
Heal Your Body and Mind with Fukuoka's Hot Springs and Saunas
What about spending a full day of relaxation at a lovely hot spring?
Hakata Yufuin Takeo Onsen Manyo-no-Yu

This facility allows you to enjoy the hot spring waters of two renowned hot spring regions of Kyushu - Yufuin in Oita Prefecture and Takeo in Saga Prefecture - that have been delivered to it daily by truck. Free shuttle buses operate from Tenjin, Nakasukawabata, and Hakata stations, making it easily accessible.

View more

Chikushino Tenpai no Sato (Tenpai no Yu)

This hot spring facility offers natural hot springs that gush from a depth of 1,500 meters, a macrobiotic buffet, and kaiseki (traditional Japanese multi-course style) cuisine. You can enjoy a magnificent panoramic view of Dazaifu's townscape and Mount Homan from the open-air bath. Also, the recently renovated men's sauna has captured the attention of many as it lets you experience löyly (the steam that rises from pouring water on heated sauna rocks) on your own.

Ito no Yudokoro

This hot spring facility offers a breathtaking view unique to its hilltop location in Itoshima, overlooking Fukuoka City and the bucolic rural landscape. It features a large communal bath, carbonated baths, open-air baths, cypress wood steam baths, various types of saunas, rock bathing, and private family baths. After bathing, enjoy dishes made with fresh local ingredients at the restaurant on-site.
---
Summary
Fukuoka offers a wide range of indoor facilities and activities that you can enjoy, no matter the weather or temperature. Whether you prefer engaging in physical activities, spending a leisurely day appreciating art, or exploring other options, there's something for everyone. So, don't let the weather bother you, and make the most of your stay in Fukuoka!
---
Next article for you