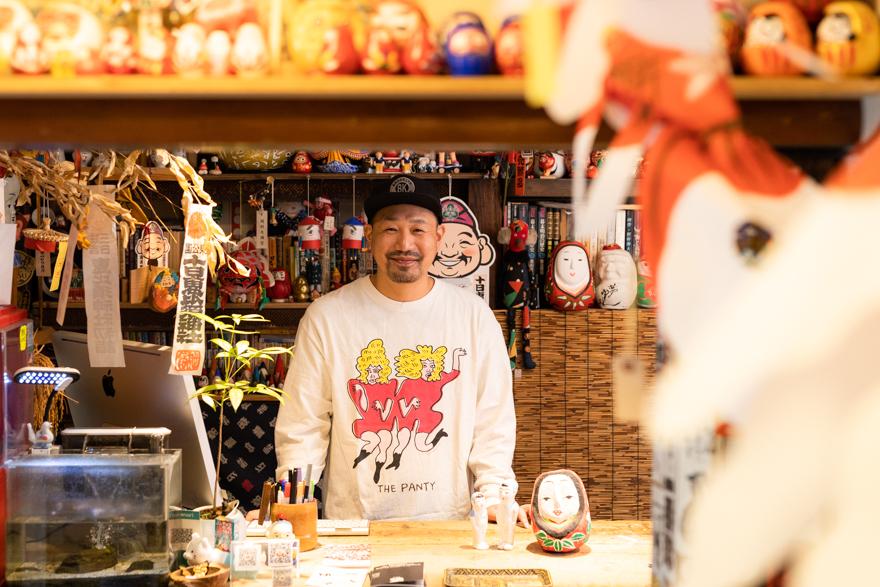 Connecting with others through nothing but toys
An interview with Shintaro Segawa, owner of YAMABIKO YA; A close look at what drew him into the charms of local toys and the connections people have made through him
---
Collecting local toys and folk crafts from throughout Kyushu
Imaizumi is the name of a neighborhood within Fukuoka City's Chuo Ward, and the streets here, which are lined with specialty boutiques, cafés, and beauty salons, also serve as a focal point for expressing the culture of Fukuoka. On the ground floor of an aging apartment building standing at the heart of this neighborhood, I could see an indigo-colored shop curtain fluttering in the breeze over the entrance to Room 101. As I entered, lured in by a strange ambience that bore no resemblance to a private residence, I was greeted by a collection of dolls and toys snugly lining the walls of what was once a one-room apartment.
---
Each and every item is distinctly unique in shape and appearance, and although I feel like I've wandered into parallel universe, I am actually standing inside YAMABIKO YA, a specialty shop that collects local toys and folk crafts from throughout Kyushu. The owner, Shintaro Segawa, opened the shop in 2015 at the age of 30. He had always loved knick-knacks, and dreamed of one day owning his own shop. Just as he began considering how to create his ideal shop, he happened upon this apartment, which immediately caught his attention. He personally renovated the apartment (which used to be a residence) into a shop, carrying in lumber, paneling, and recycled furnishings, and he even installed homemade shelves.

"Now, what should I put on these shelves…" When he was struggling to decide on his core product (a crucial decision!), he hit upon the idea of selling what are known as "Daruma dolls," a type of lucky charm modeled after Bodhidharma, the founder of the Zen tradition of Buddhism, and considered one of the most popular forms of such charms in Japan. As luck would have it, a few years before he opened the shop, he was invited to work as a Daruma doll painter, and he had been purchasing and collecting Daruma dolls from across the country to use as references for his designs. Very few shops in Japan specialize in local or regional toys, so he immediately stocked his shop with them. At the beginning, he didn't carry many of them in his shop, so he also displayed and sold tableware crafted in Kyushu.
---
Uncovering treasures lying dormant in local workshops
Even after opening the shop, he would close it down once every two months, and with nothing but his backpack, he would set out to visit the workshops of local toy artisans throughout Kyushu. Transferring between train lines and bus routes, he would show up at their doors completely unannounced. At first, he made these trips to collect items to fill his shelves, but he became fascinated with the unique charms of local toys as he gradually learned more about how they were originally derived, how they reflect the characteristics of their region, and the sentiments and emotions imbued into them in the environments where they are crafted. He realized that he wanted to tell as many others as he could about them, and to express the extent of his passion, he persisted in visiting even the workshops where his requests to meet had been largely fruitless. One year later, after he had covered the length and breadth of Kyushu, he re-launched his business as a specialty shop for folk crafts and local toys. Today, he maintains connections with more than 50 workshops nationwide.

Looking at the works lining his shelves, it is abundantly clear that he has an eye for beauty. s Shintaro said, "We live in an age when you can basically buy anything you want online, and that's precisely why I prefer items that you can't find unless you actually go to where they're made." For emphasis, he pointed out a collection of dust-covered items in a corner of his shop. If his instinctual, face-to-face, first impression of an item is "oh, interesting," "how cute," or "what in the world…," he commissions the artisan to make them for him. Some items have been sitting in the shop for nearly five years – ever since it opened, but that's all a part of the fun. He turns that fact that an item doesn't sell into an element of the story that he tells of that particular piece.
---
Encountering Tsuyazaki dolls, an art form with more than 240 years of history
It is well-known that commoners in Japan have been crafting local varieties of toys since the late Edo period (in the 1770s) using paper, wood, bamboo, clay, and other readily available materials. Ukiyo-e woodblock prints have even featured images of popular toys such as Daruma dolls (carved in the likeness of Bodhidharma), Kokeshi dolls (slender figures carved with a head but no limbs), and Maneki-neko figures (cats with one paw raised as if beckoning). These sorts of local toys, which evolved within the climate and lifestyle of a particular region, have been beloved and familiar playthings for hundreds of years. Their major appeal lies in the fact that, as they reflect the legends, beliefs, aesthetics, and sense of happiness that developed in their region of origin, they possess characteristics and qualities that are unique to that particular region. While many of these forms of art have disappeared with the times, a relatively large number of local varieties of toys continue to be crafted at workshops in Fukuoka.

I traveled to a scenic, costal neighborhood named Tsuyazaki, located within Fukutsu City in north-western Fukuoka Prefecture, in order to visit one of these workshops – Chikuzen Tsuyazaki Ningyou Koubou, a doll artisan workshop that specializes in Tsuyazaki dolls, which have been crafted for more than 240 years.

Makoto Harada, the seventh generation to run the workshop, has been a doll artisan for half a century. Today, he continues to craft dolls together with his eldest son, Shohei. Tsuyazaki dolls are characterized by their simple, rounded shape and vivid coloration. Originally, craftsmen used the local, high-quality porcelain clay to produce various types of household containers and implements, but over time, they began crafting clay dolls as well. Works of art born from this handiwork, which has been passed down through the generations, can of course also be found on the shelves of Shohei's shop.
---
Among the many types of Tsuyazaki dolls, Shintaro's favorite is Gonta (left photo), a pacifier doll from the Meiji period (1868-1912). What struck Shohei's heart about it was the fact that every single aspect of the doll – the expression on its face, its intended use, its name…everything – is funny. At the time that Segawa commissioned the workshop to supply him with copies of the doll,it was not being produced in large numbers, and Shohei, who had not yet entered the family business, didn't even know it existed.
---
What passion hath wrought
Young people are not interested in traditional local toys… For Shohei, who was convinced of this and had never even considered taking over the family business, it was a form of culture shock to see Shohei, who was roughly the same age as him, speak so passionately about his love for traditional local toys. Yet, when he saw Tsuyazaki dolls on display at YAMABIKO YA, it lit a fire within him. Shohei told me about his change of heart at that time. "I had been around these dolls my whole life, but in that shop, I saw them objectively for the very first time.Mr. Segawa's shop is a very special place where he has collected a huge number of local toys, and it impressed me to see the way that he thoughtfully conveys the unique features of each individual item. Before I knew it, the values that I had held to that point had been overturned."
---
Shohei retired from his job as a public servant five years ago, and he plans to inherit the business from his father, Makoto, as the eighth generation of the family to run the workshop. Meeting Shohei was the catalyst behind Shohei's change of heart. Before long, national media outlets began to cover the story, and Tsuyazaki dolls quickly became famous. One variety of which is a series of earthenware, owl-shaped dolls named Moma flutes. The word "moma" has been used in the Tsuyazaki area since ancient times to mean "owl," and the owls that perch on the pine trees along the coast are a very familiar sight to the local residents, who have long believed the animals to possess the ability to see the future. In the past, Moma flutes, made in the likeness of these owls, have been given away at shrines as a form of lucky charm.
---
Now, it seems that these compact, cute-looking toys have become one of the leading types of Tsuyazaki dolls. The number of young people and tourists visiting the workshop is on the rise, and now, even Shohei is working to teach people about the history and appeal of Tsuyazaki dolls through hands-on Moma flute painting workshops.

"Local toys are not life necessities. However, they provide opportunities to learn and think about Japan's unique culture, history, and prayers. It is my hope that more and more people will find them interesting and seek to acquire them, which will ultimately help preserve the tradition of local toys as a whole."
---
Creating opportunities for interest
This example is in no way unique to Tsuyazaki dolls. There are as many encounters waiting here in Shintaro's shop as there are workshops that he has visited, and through these, he has made a broad range of joyous connections not only with other craftsmen but with customers as well. When I asked him what he most wants to say, he replied that it's to children that we need to show the charms of local toys. "In our generation, when we used to visit our grandparents' house, there would always be one or two types of local toys. We were exposed to them even if we didn't want to be. However, I'm sure that children today know even less about local toys than we did. If no one collects and displays these toys, then they will remain unknown and their history and culture will die out. And that would be a great shame, don't you think? I want to create opportunities for people to become interested. I want to continue serving as that 'bridge' on into the future." I feel that the stories of lives connected through Shintaro's warm personality and his great love for local toys are only just beginning.
---
Profile
Yamabiko-ya
Owner, Shintaro Segawa

Born in Shimabara City, Nagasaki Prefecture. Owner of Yamabiko-ya, which sells local toys from throughout Kyushu, and also a participant in Daruma doll painting activities using original designs at UTAGEYA, an Osaka-based organization promoting Daruma doll art.
---
Chikuzen Tsuyazaki Ningyo Koubou (Doll Artisan Workshop)
3-14-3 Tsuyazaki, Fukutsu City

+81-940-52-0419

Interview and text:Natsuki Shinmoto(Chikara)
Translation:Aaron Schwarz
Photography:Kazuhiro Kaku
Project Direction:Chikara
---
Next article for you