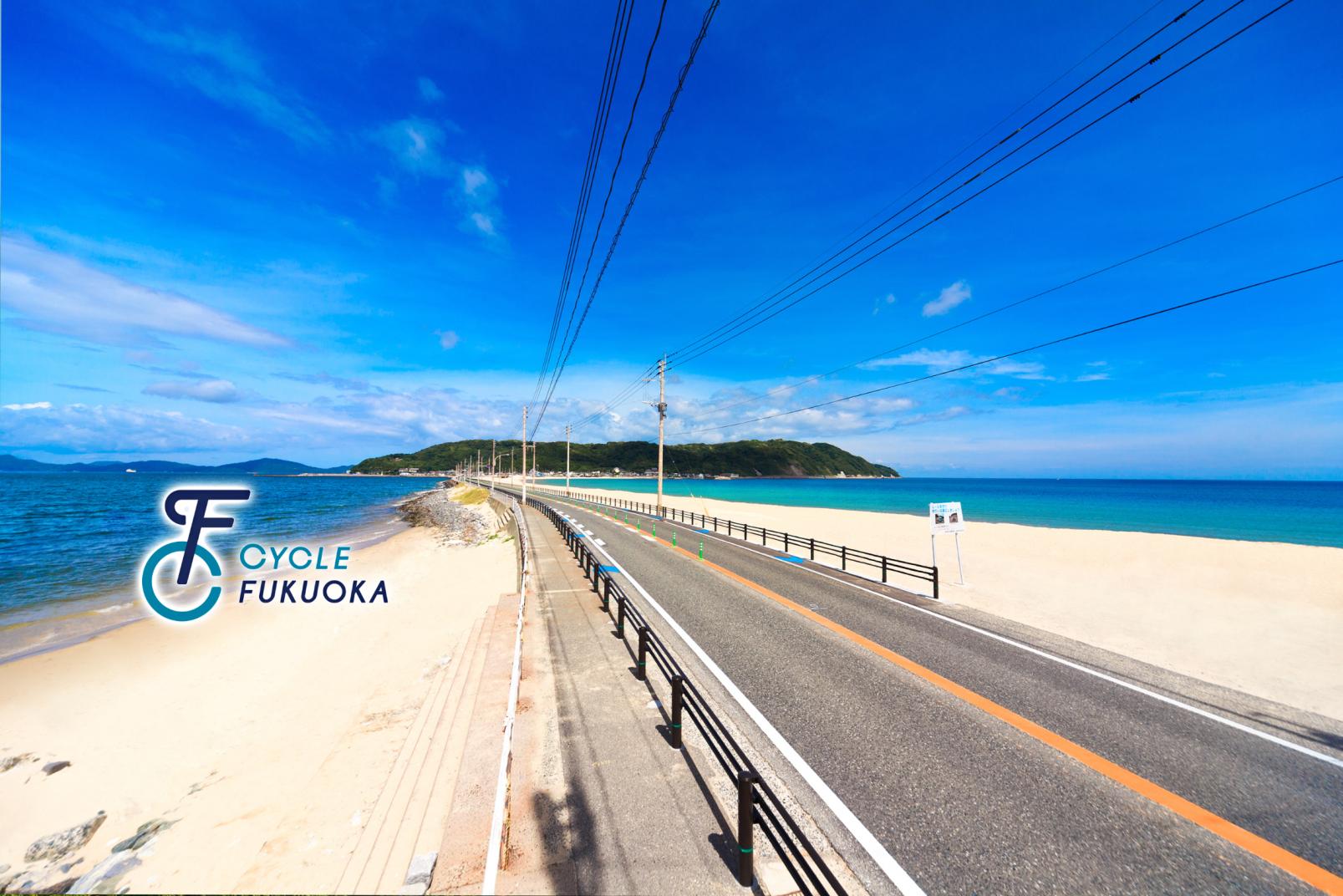 Munakata-Shikanoshima Route
【Route Length】Approx. 51 km
【Elevation】Approx. 146 m
Enjoy the sea breeze while also jumping back in time on this route that covers Fukuoka's history

On a clear, fine day, enjoy views of the sacred island Okinoshima, pass by other World Heritage Sites such as Munakata Taisha Shrine and Miyajidake Shrine, known for its "Path of Light", and take this route all the way to Shikanoshima Island, where the golden seal of King Na was discovered. The road to Shikanoshima is flanked on both sides by the sea. It is also possible to return to Hakata by ferry from Shikanoshima.
---
CYCLE MAP
*This information is accurate as of December 2019.
---

---
①Michi-no-Eki Munakata Roadside Station
A great place to enjoy shopping, meals, and rest all in the one spot. There are a farmers market, restaurant, a rice flour-based bakery, and local souvenirs available for purchase. All the most delicious items from Munakata are available, including fresh fish caught in the Genkai-nada Sea, local fruits and vegetables, and other regional delicacies.





---
②Munakata Taisha Shrine
This is the head shrine for the Munakata Taisha shrine network that has more than 7,000 shrines, including Munakata and Itsukushima shrines throughout Japan, worshipping the three Munakata goddesses (Munakata Sanjojin).
In 2017, the Sacred Island of Okinoshima and Associated Sites in the Munakata Region were registered as UNESCO World Heritage Sites.

---
③Hotel Grèges
---
④A La Paysanne Patisserie, Fukutsu Store
---
⑤Miyajidake Shrine
This is the head shrine for all of Japan's Miyajidake shrine network, known as places to pray for good luck and prosperity in business ventures. When you visit the shrine, you'll surely notice the eye-catching giant Shimenawa (sacred straw rope), which is 2.6m thick, 11m long and weighs 3 tons.
In February and October, the setting sun lights up the road going from the sea all the way to the temple, and has been gaining in popularity as the "Path of Light".


---
⑥Eikichi Bakery
---
⑦Gannosu Recreation Center
---
⑧The Road to Shikanoshima
This road is said to originally be a reef, passing through the ocean, joining Shikanoshima and Kyushu. At 8km long and approx. 2.5km wide, the northern end of the reef is at the Genkai-nada Sea, and the southern end is in Hakata Bay. Enjoy the exhilarating ride with the ocean on your left and right. Shikanoshima's famous Kin-In Hot Dogs are on sale partway along the ride.
---
⑨Shikashima Cycle
A rental cycle shop and cafe right at the entrance to Shikanoshima, near the torii gate. The shop mostly specializes in sports bikes such as cyclocross bikes and mountain bikes. Enjoy pasta and other light meals in the cafe. You can buy drinks and other items such as bicycle inner tubes in the shop.





---
⑩Fukuoka Municipal Ferry Service Shikanoshima waiting room
---
---
Next article for you