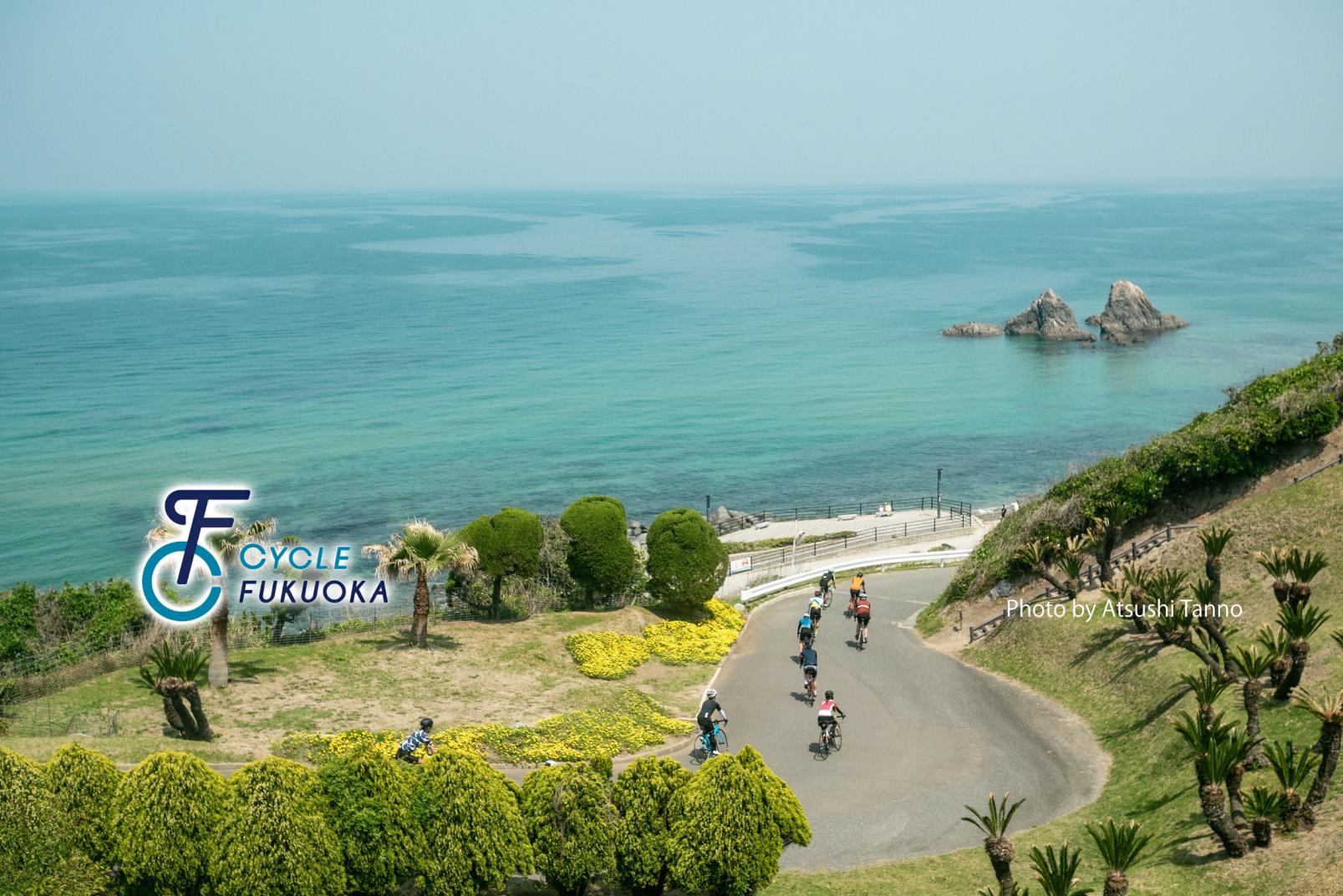 Fukuoka-Itoshima Route
【Route Length】Approx. 78 km
【Elevation】Approx. 253 m
A popular cycling route, covering both famous places by the sea and a range of cafes in Fukuoka.

With easy access from Fukuoka City, this typical route is popular with locals for the nice cafes and shops right next to the ocean. A nice route to ride due to a lower number of traffic lights and lively on the weekends when many cyclists are out and about.
---
CYCLE MAP
*This information is accurate as of December 2019.
---

---
①Fukuoka Tower
---
②Odo Park
One of the parks of Fukuoka City boasts scenic views of the shoreline. With views of Noko Island to the north, and a wide expansive lawn, on the weekends you can see families, groups of walkers, and children having fun on the play equipment. Odo Shrine is located in the center of the park, and it is said in the Nihon Shoki historical accounts that Odo Daijingu Shrine was the sacred place where the deity Izanagi undertook ritual purification.


---
③Imazu Sports Park
Including the park equipment available for warm-ups and cool-downs, you can relax your feet on the cobbled acupressure refresh road, take a break while enjoying the park's greenery and floral displays, and use the restrooms or even the showers and changing rooms provided in the gymnasium management office or clubhouse.



---
④Fukuoka City Umizuri Marine Park
No need to bring your own gear as rod and reel rental is available, and buy your bait and other items at the park. You can also receive fishing tips from the fishing assistants, so even beginners can enjoy the experience! The stalls inside the park also sell popular fish croquettes and light meals. You can barbecue from late March until late October and you can enjoy Fukuoka's famous branded "Karatomari Ebisu Oysters" at the oyster hut just next door from November until late March (ends when oysters are sold out). Fishing fee (up to 4 hours): Adults 1,000 yen, Children 500 yen. Also there is a fee only for entrance. Please visit the park website for more information.


---
⑤Sakurai Futamigaura
The Meoto Iwa, or Married Couple Rocks are approx. 150m out from the shoreline and are a well-known scenic spot. It is venerated as a sacred place and is part of the Sakurai Shrine (which is a Prefectural Cultural Asset). Every year in May, at the time of the spring tide, a 30m long, 1-ton Shimenawa (rope talisman) is strung between the couple rocks.



---
⑥Blue Roof
---
⑦Nigi-no-Hama Beach
Stretching for 6km in a curved bow shape from Keya-no-Oto to Nogita Beach, this beach has also been named as one of Japan's "Top 100 White Sand & Green Pines" beaches. The contrast of the green pines, white sand, blue ocean, white waves breaking on the shore, and the deep orange of the beautiful sun setting into the horizon is a sight unchanged since ancient times and continues to amaze those who see it.
There are public restrooms at three different locations along Prefectural Route 54.

---
⑧Keya-no-Oto
This scenic rock is the key feature of Genkai Quasi-National park. The basalt cave is the largest out of Japan's top three basalt caves, with a height of 64m, a mouth 10m in size, and a depth of 90m, and boasts a mystical view, resembling a large, dark mouth opening towards the Genkai-nada Sea.
It is only accessible by boat between March and November when the seas are calm, with tour boats leaving from Keya Fishing Port for a tour that lasts roughly 25 minutes. Enjoy the naturally occurring and artistically beautiful azure blue ocean and the honeycomb-shaped rocks of the cave.


---
⑨Kishi Tourist Rest Area
---
⑩Hakoshima
If you take National Route 202 from Kafuri towards Karatsu, you will see a small island near the shore. On this small island of approx. 200m in diameter, there is a small shrine, which the locals call "Hakoshima-sama". The deities enshrined here are Sayarimasumihashira-no-Okami, Nishinomiya Daimyojin, and Aizen Myo-o and they are worshipped as the gods for ears and for beauty. Recently, it has also become popular as a shrine for love and relationships.
---
⑪Ito Hot Sandwich Egao
This delicious hot sandwich shop has won the grand prize in Itoshima's Gourmet Grand Prix.
Beginning with one of Itoshima's local seafood delicacies, the crispy fried red seabream sandwich, any of the tasty selection of hot sandwiches made with Itoshima's local meat and vegetables are a perfect option to satisfy the appetite you worked up while cycling.


---
⑫Fukuyoshi Fureai Koryu Center: Fuku-Fuku-no-Sato
This is a farmer's market located in Nijofukui, Itoshima City. On sale are fresh vegetables grown and harvested in Itoshima, and fresh-caught fish and delivered from Fukuyoshi Port.
Also on offer is homemade bread, Japanese manju sweets, bento lunch boxes and other snacks, and sweets made using Nijofukui's own locally developed and grown citrus, "Haruka".


---
⑬Anego-no-Hama Singing Sand Beach
At a length of 1.1km and 20m wide, bow-shaped Anego-no-Hama beach is located directly below Nijo Parking Area. When you walk on this beach, it makes an interesting squeaky sound.
It's a place to savor the beautiful vistas of islands seemingly floating in the Genkai-nada Sea and the beauty of the sunsets, and on clear days you can see all the way to Iki Island. It's also lively all year round as a popular surfing spot.



---
---
Next article for you